Our Organized Home editor, Fan Winston, clued us in to the work of her former Martha Stewart Living colleague, Erin Rouse, who recently launched a line of handmade brooms called Custodian. The brooms are functional art pieces, made from all-natural materials—the handles are FSC-certified maple, the brush is made from a low-water variety of sorghum that's grown and processed in North America, the raw copper wire is from Parawire, the oldest wire company in the New York area, and the nails are from Tremont Nails, an American company that has been making them for over 200 years.
Why brooms? "I'm interested in the overlap of art and domestic life," says Erin, who has a bachelor's degree in visual arts from Rice University. "Brooms are such an incredible design object, and the act of sweeping house changes the energy. My interest in broom making started when I was working at lighting designer Lindsey Adelman's studio. She encourages her employees to take a class in something new once a year, so I took a private broom workshop with a burly guy from Maine called Everett Bailey, who now lives in New Hampshire and lectures at the Canterbury Shaker Village. He taught me the exacting process of broom making using an old-fashioned broom machine. After searching the Web, I found an 1890s kick winder broom machine, which is what I use in my studio.
"Handmade brooms are like usable art; they sit on the border of sculpture and practicality. In my own domestic life, since I live in an apartment in Brooklyn, most of the things I own are out and on display. I believe in having fewer things in our lives that are meaningful; if I can see the hand in it, it makes me feel better."
Here's a look at a few of the brooms from Erin's collection (contact her directly at Custodian Studio for pricing and ordering information).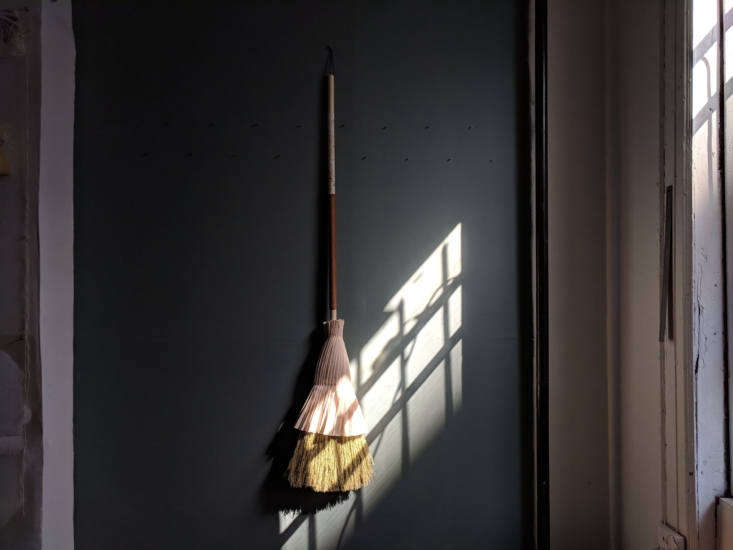 See more posts involving brooms:
N.B.: This post is an update; the original ran on April 10, 2018.
You need to login or register to view and manage your bookmarks.