Carina Schott, who writes the blog Nonchalant Mom, is one of those people whom I think of as a friend, but truth is I've only ever met her once (she's married to my friend Karim Hamid, an artist). It's really through Carina's blog and shop that I've kept us with the couple (they moved to the East Coast a while back). On her blog, she addresses the topic of raising two children in a refreshingly mellow, laid-back manner without a hint of perfection or pretending to do it all.
Several years ago, Domino published a piece on their home in Matunuck, Rhode Island. It was one of my favorite Domino house tours: indoor/outdoor living, not too big and with a simple, modern aesthetic. We asked Carina to give us an updated tour–our timing proved impeccable, as the house just went on the market as the family prepares to move West.
Carina talks us through the home she shares with Karim and their two children, Sander and Franny,
Photography by Robyn Ivy except where noted.
Above: Sander sitting outside on the back deck at an Ikea table and bench. Carina tells us, "This is where we sit outside. The area becomes a second room kind of–the kids bring out blankets and we eat lunches and dinners out here, but not in the rain. When it's really hot in the summer we put up large triangle sun shades, I love them–they look so good and it makes it so nice to be outside all the time–and when you have parties at night it's like having a party in a tent." Photograph by Carina Schott.
Above: Carina at the kitchen table, sourced from Crate and Barrel along with the benches.  She tells us, "Even when you are inside you are outside. We have lots of guests over for dinner–there is nowhere to go out to eat where we live so we almost always cook at home."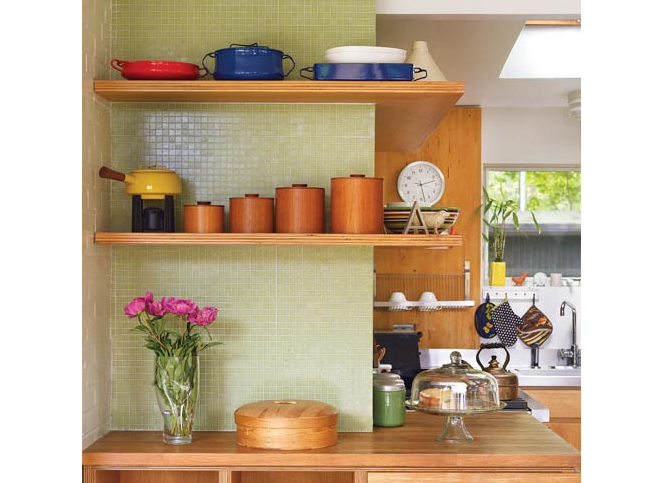 Above: The kitchen area with oak shelving and cabinets and a glass-tiled wall. Photograph via Nat Rea.
Above: Franny relaxing on a bean bag beside a Lamino Chair by Swedese.  On the radiant heated concrete floor is a Moroccan rug. Carina notes, "All our rugs are old Moroccan rugs from a guy in the Chelsea Market. This shot shows you how small our house is and how much we spend time together. There is really no privacy in our house–which is good I think–I always know what's going on with the kids; they have to be quiet while I am on the phone from time to time but I think it teaches us to be considerate and respect each other and the kids just can't go hog wild all the time."
Above: Marley sitting on part of the Togo Sofa from Ligne Roset with Lucky Fish Pillows from Nonchalant Mom. According to Carina, "This is where we spend all of our time. We haul out trays when we play/build–it's all done out here. We are big on playing games, our favorites are Rummikub & Parcheesi."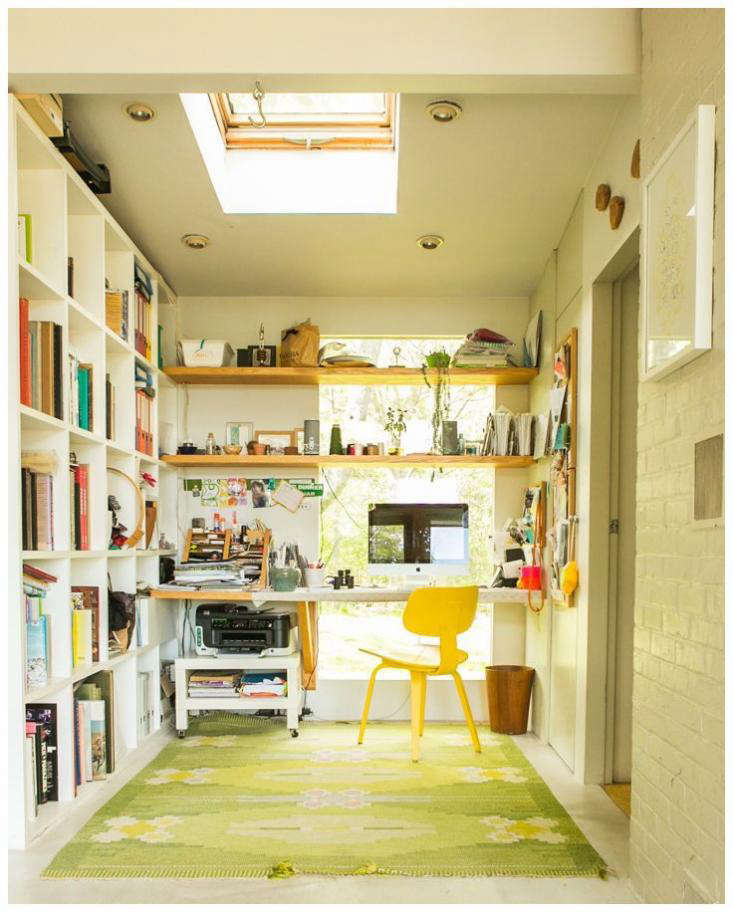 Above: Carina's office, which she confesses, "is a mess. It's really worse than this–I cleaned it up for this photo–it drives my husband nuts as he is a neat freak. See those cubbies, they are filled with fabric, beads, and flea market stuff–which I sell in my store from time to time. I work from home and then go in to my store and pack boxes to ship out to customers every day. (I'm kind of obsessed about shipping every day, all the UPS guys in town know me and I chase down trucks all the time–and when in doubt, you can always find them at Dunkin' Donuts."
Above: A yellow painted Thonet chair sits in the hallway to the kids room with a shoji screen separating the two spaces covered in Josef Frank's Windows print fabric.
Above: Franny's bed adjacent to the screen. On the window are some trolls collected from local antique shops and some from Carina's childhood.
Above: Carina on room sharing: "Franny and Sander share a room, which I love. They really like it too. The most wonderful thing I hear as a parent is the two of them talking to each other at night about their day (because we have no door on our bedroom–now that's not for everyone, but we like it).
Above: Franny's bedroom door. "We have hooks on the back of all the doors in the house for handy storage if you ask me. Franny takes over most of them with all her bags. She is the bag lady.
Above: A wall of photos in the master bedroom. "These are photos of our childhood and our kids and our parents. We use old frames and lots of Ikea frames," says Carina.
Above: The master bedroom with large photographs of Carina, Sander, and Karim. "We have not added Franny yet (oops)."
Above: The red door leads to Karim's studio, which is located in what was once a laundry shack. There are four buildings on the property, each with a letter or number on the door. "All of our letters are from Paula Rubenstein in NYC, we love her."
Above: A hammock in the garden near the studio.
Above: The pool with decking and square tables made from Ipe (built by Karim) that also double as seating.
Want to own the house? Check out the recent listing with Sotheby's. Take a look at our recent find in nearby Providence, RI: Stock Culinary Goods.