Recently discovered via Etsy: Golden Biscotti is a small shop offering daily goods of elemental charm. Designed by Nicole Lehner, each product is manufactured by hand using traditional techniques that enhance the natural beauty of the materials–paper, wood, and clay. Simplicity reigns at this Swiss atelier; ornamentation is sacrificed in favor of balance and form, and texture, rather than color, provides allure.
Above: Sold individually or as a set in three shades of gray, Golden Biscotti's porcelain plates are left unglazed in order to maintain their textured finish; $59 each or $170 for the set.
Above: Drinking straws made of… straw! Harvested with a sickle just before ripening, each piece is then dried and cut to the desired length. An ecological alternative to plastic, Golden Biscotti's straws are compostable; $9.60 for a set of 20.
Above: Like Golden Biscotti's plates, their hand-folded paper garlands come in a trio of subtle gray shades: $24 for a set of three.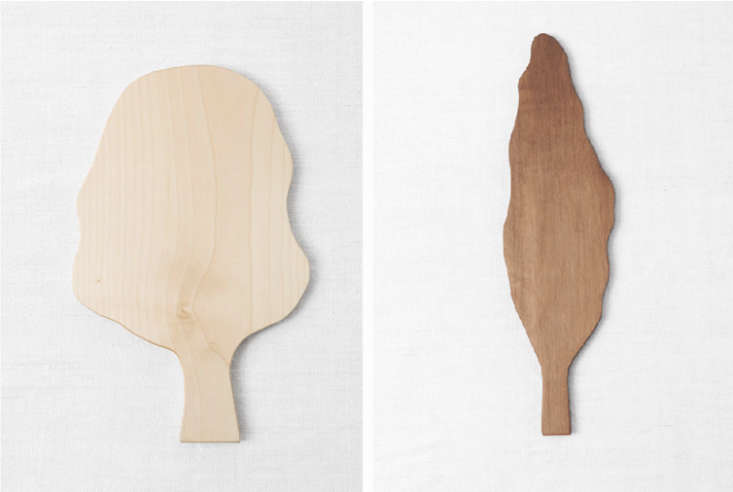 Above: Carved from maple and walnut, Golden Biscotti's tree boards are both decorative and utilitarian; $32 for maple, $38 for walnut. Also available in beech ($38) and as a set of three; $111.
Above: Designed in collaboration with fashion designer Cornelia Peter, this natural pan mat  is hand-crocheted from durable hemp; $59.
You can view the full range of Golden Biscotti products here.
Want more natural style for your home? See Eco-Friendly Kitchen Style from Mr. and Mrs. P.
Stay tuned: Take a tour of Remodelista contributor Justine Hand's Cape Cod cottage in our first Remodelista book, out November 5.
You need to login or register to view and manage your bookmarks.