Though he loves food, Antwerp-based chef Benjamin Somers has never been comfortable with the amount of waste in the restaurant industry. His solution: Native, a vegetable-forward bistro that embraces sustainability on all fronts, from the menu to the design. Characterized by back-to-basics simplicity and the freshest ingredients, the food is all organic and locally sourced. Likewise, the interiors are pared-down and eco-friendly, outfitted entirely with reclaimed furnishings and fixtures.
Photography by Sean Santiago (via Food52).
Above: Under a salvaged stained-glass window, tables for two are fashioned from old doors.
Above: Vintage mismatched chairs, as well as a reclaimed glass door add character to the intimate space.
Above: Founding chef Benjamin Somers, whose restaurant career began when he was working his way through college. At that time he was studying graphic design.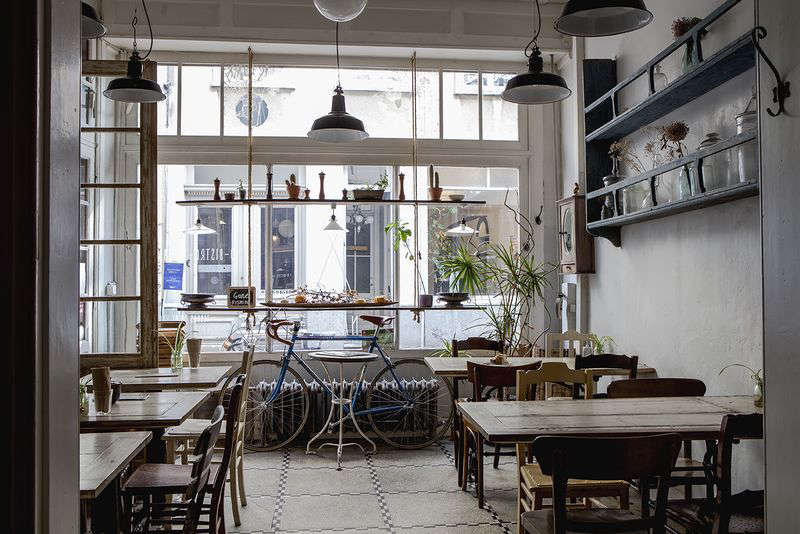 Above: High ceilings and a large front window create an open, airy feel.
Above: Somers' goal was to make the interiors as "original and inviting" as the food. Here, recycled glassware, dried flowers, and a vintage shelf create a homey feel.
Above: Native's signature dish (it caused an uproar when they briefly took it off the menu) is caramelized pumpkin and goat cheese salad.
Above: In the window, potted plants rest on a handmade shelf suspended from the ceiling.
Above: A detail of the carefully composed vegetarian plates. Somers notes: "We break away from the traditional concept of meat and fish accompanied by some greens and put the spotlight on seasonal vegetables instead."
(Visited 205 times, 2 visits today)