Nostalgic for the old (pre-glitz) Malibu where she grew up, an LA native restores a West Marin barn by the water.
Mindy Marin (yes, that's her name) has been coming to a notoriously publicity-shy town in West Marin for more than 30 years. She had always dreamed of owning her own working ranch by the water, so when a ramshackle barn sited on a ridge with views of the ocean became available, she leapt at the opportunity. Marin, who refers to herself as a "Casting director by trade but an entrepreneur at heart," sees Bluewater Ranch as a retreat; "my long-term goal is to use the barn as a place for writers to come and work with nature as their backdrop."
There's a backstory here: when I met Mindy at last year's Remodelista Holiday Market, she invited me out for a visit. Forever the talent spotter, she cast my friend Heidi Swanson of 101 Cookbooks as the photographer, which is how the two of us found ourselves at her barn on a recent sunny afternoon. Mindy Marin is good at her job.
Photography by Heidi Swanson.
Above: Dubbed the "power table," the outdoor dining table is made from a chunk of wood from Paradise Valley propped on a pair of sawhorses. Seating consists of tree stumps.
Above: The large window is original to the building, as are the wooden ceiling rafters; an original hay bale pulley still hangs from the rafters. The round table in the living room is made from redwood recycled from an old water tank on the property. The table placed between the two sofas is an old door that Marin found on the property, propped on a pair of sawhorses Mindy borrowed from her contractor. On the ceiling are industrial pendant lights that Marin found at the Paris Flea Market at Clignancourt (there's a cinematic story here: she was en route taking her recently deceased mother's ashes to Switzerland and wanted something to remember the trip; to this day she still recalls her mother when she turns the lights on).
Above: Two owl paintings by a local artist are propped against the wooden barn wall with its original chalk paint. Marin has been testing out different types of milk pant in an effort to recreate the patina for painting the rest of the barn.
Above: Marin opened up the warren of rooms, exposing the beams and removing ceilings to reveal the original structure. "I follow the light and let it in," she says. Much of the slipcovered furniture is from Gianetti Home in LA.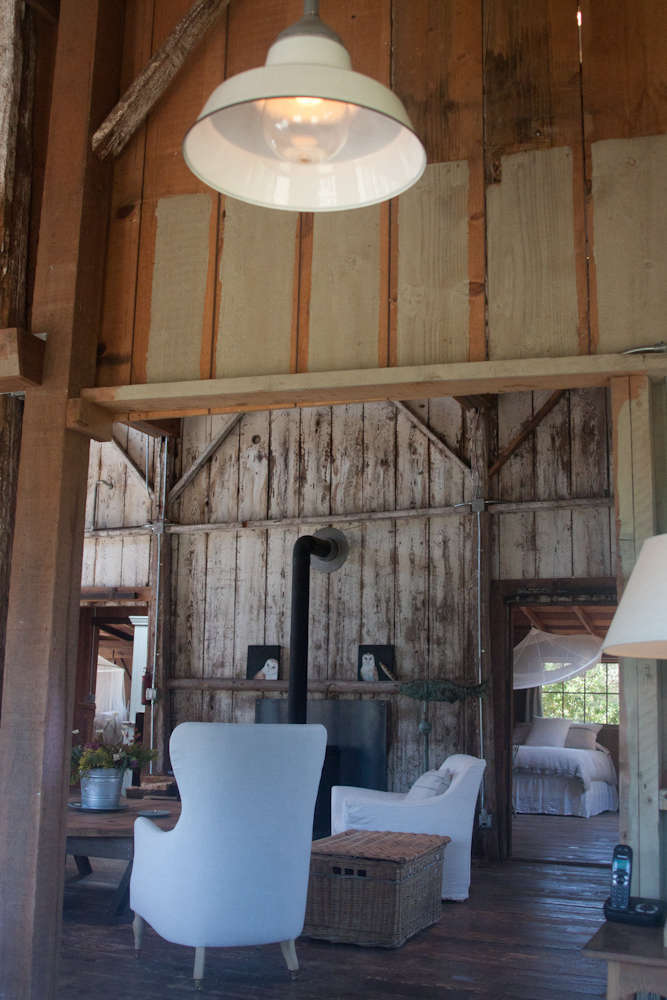 Above: Many of the light fixtures are from Barn Light Electric. Beside the Regency wood burning stove is a fish that used to sit on top of her family's home in Malibu. "Use what you have" is one of Marin's mottos.
Above: Marin uses a branch from a felled walnut tree for hanging her pots and pans in the kitchen; "You can still see the sap suckers in the patterns on the wood," she says. A mix of Griswold Wagner cast iron pans inherited from her mother hang beside newer Lodge pans. The S hooks were purchased in Petaluma.
Above: The bone-handled knives were passed down from Marin's mother, who collected antiques.
Above: An old workbench bought at Sienna Antiques in Petaluma serves as a kitchen island. The drawers are painted in a low VOC Farrow & Ball blue, Marin's signature color. The wooden trivets and coasters, many of which she gave away as holiday gifts last year, were made from a walnut tree on her property that had to be taken down.
Above: In the dining area are built-in benches with linen-covered cushions sourced from Euro-Linens, located near Santa Cruz. The vase is made from an upturned glass lamp that once covered a light on a gate at her parent's home in Malibu.
Above: A Steel Coral stove that sat in her parents guest house serves as a side table.
Above L: A view from the guest room. Above R: Marin kept the wide plank Douglas fir flooring, and instead of replacing the wood where it was worn, added tin patches.
Above: A sliding barn door to the guest room. Splatters of paint can still be seen on the floor, from when it was used a pottery studio.
Above: A cupboard with original plates from the pottery studio, revealing the different color palettes.
Above: A sink is sandwiched between the bathroom and the bedrooms in the middle of the barn. "The sink was here when I moved in, and while it didn't make sense, I kept it and added the wooden bench to put things on, and I now use it all the time for overspill."
Above: Marin draped her bed in Ikea mosquito netting: "The barn does not have a lot of insulation, so you need something to keep the critters off you while you sleep." She added sandblasted shades to the metal lamps that had been sitting in her garage.
Above: An outdoor seating area opens off the kitchen. The mop sink is from Ohmega Salvage in Berkeley; Marin had a wooden stand built for it. The mulch was put down for her birthday party and has remained ever since because, as Marin says, "It looks so nice and smells so good."
Above: The barn was originally built as a stagecoach stop in 1886 is still a work in progress. Marin opened up the walls to let the light in, working with a local who custom makes windows and doors. The views overlook rolling hills with the Pacific Ocean at one end and with the occasional bobcats and mountain lion passing by.
(Visited 122 times, 1 visits today)