We have more than a few serious home chefs in our circles. Here's a roundup of ideas for the perfect present for the man in the kitchen.
Above: The Glass Coffee Carafe Set includes a glass carafe that does double duty (it holds the stainless steel filter and also functions as a serving carafe); a stainless steel reusable coffee filter; and a plastic holder for measuring coffee; $52 from Trnk. (Also see How to Brew a Better Cup of Coffee by Tariq Dixon, one of the founders of Trnk.)
Above: Joshua Vogel's Blackline collection is a new favorite around here. His Cutting Boards come in small, large, and paddle-size (the 8-by-16-inch small, shown here, is $175).
Above: Made in France, the screen-printed Fisherman Tea Towel features an image from a vintage photograph; $36 from Alder & Co.
Above: Made of sandstone, black enameled Malle W. Trousseau Browning Pans are $76 for the medium size (8.25 by 10 by 2 inches) and $105 for the large size (10.25 by 12 by 2) at March in SF.
Above: Designed by architect Hagina Mitsonubu for the FD Style collection, FD Style Kitchen Tools start at $40 for the FD Style Bottle Opener and go up to $75 for the FD Style Can Opener from Lekker Home. The tools are made of stainless steel with a matte black fluorocarbon polymer coating.
Above: Borough Furnace of Syracuse, New York, offers a lifetime-lasting, made-to-order 12-inch Braising Skillet for $320.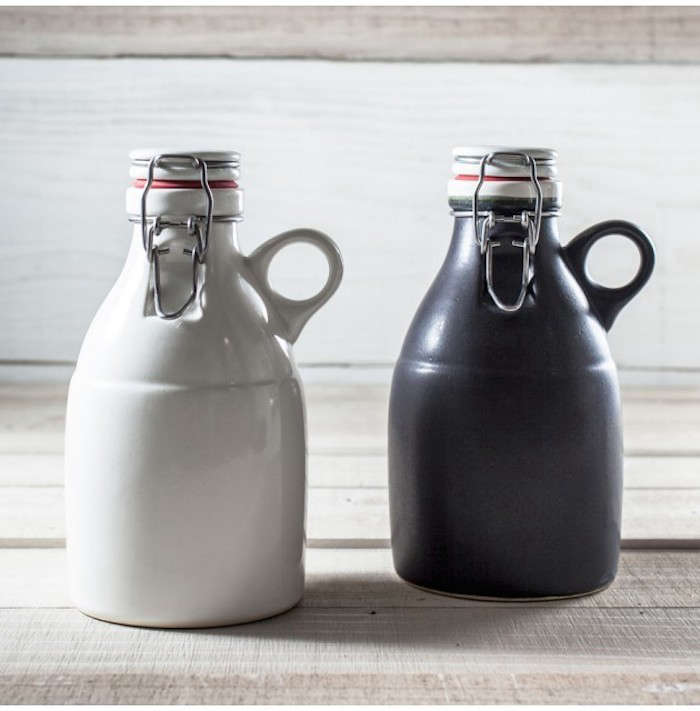 Above: Handmade Portland Ceramic Growlers are available in black and white; $68 from Guideboat in Mill Valley, California.
Go to Kitchen Accessories to see more of our favorites, including 6 Stylish Wood Knife Racks and Stainless Steel Water Fustis, Italian Edition.
(Visited 45 times, 1 visits today)