London-based designers, Lone and Chris McCourt, had long fallen in love with the the small town of Uzès, France, and in fact, had bought a summer house on the outskirts. When a medieval building (built in 1200!) right in the heart of the village came on the market, they realized that while they enjoyed rural life, town life might just have more to offer.
So the couple traded their country retreat for a four-story townhouse and embarked on a six-month restoration that was as sensitive as can be. They bolstered, fixed, and enhanced but "were careful not to alter the structure and detailing," says Chris, a furniture maker and owner of Isokon Plus, a company specializing in Bauhaus as well as contemporary furniture design.
They did, however, have to add a kitchen (the building was most recently used as a lawyer's office and as such, lacked one), but even that was a relatively non-invasive procedure, thanks to Vipp's modular kitchen units. "It's the first kitchen I have ever bought," shares Chris, who had always crafted his own kitchens in his workshop. "But this house needed something else. . . . We fell for the industrial look that stands in sharp contrast to wooden doors and detailed ornaments."
Now that the townhouse has been restored and decorated (many of the artful furniture pieces are available at Isokon Plus), the couple are reveling in their new life—and new passions. He's mastering the art of guitar-making and she's focused on textile design. "Instead of spending the whole day nursing a garden like we used to, we can have our morning coffee in the local cafés or eat out in the downstairs brasserie if we have spent long hours in our studios and are too tired to start cooking. It brings a certain freedom," says Lone.
Ready for a glimpse of their slowed-down (but not too slow) life?
Photography by Anders Hviid, courtesy of Vipp.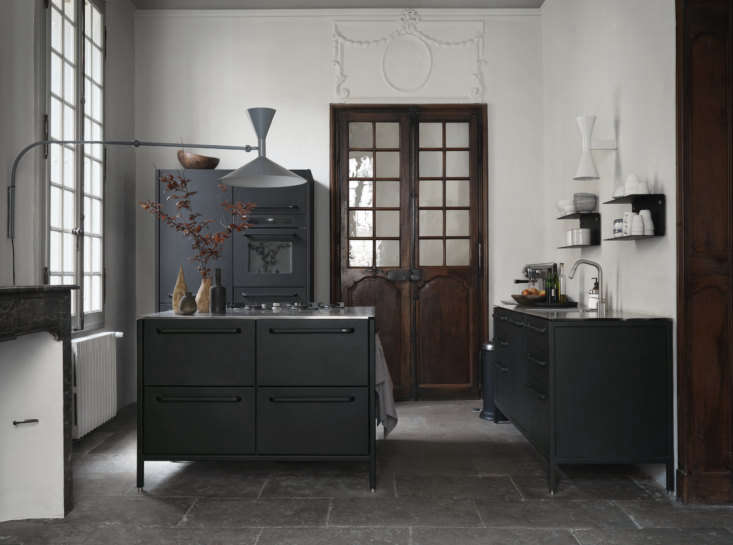 For more French design inspiration, see:
You need to login or register to view and manage your bookmarks.