There are a few of us at Remodelista who never took to the Instant Pot. Ease and cooking potential: great. Non-stick coated surface and clunky profile: Less great. (Alexa did give it a try but donated hers to a swap shop after a month.) So when I dropped in on the New York launch party for the Vermicular Musui-Kamado, an uncommonly good-looking induction-powered, cast-iron multi-cooker from Japan, I signed up to give it a try.
More on the Vermicular: Developed by brothers Kuni and Tomo Hijikata—the heirs to the Aichi Dobby foundry founded by their grandfather in 1836—the 3.9-quart Vermicular Musui pot took three years to develop and capitalizes on the company's cast iron mastery. The secret to its success? The precision seal, which allows cooks to sear, steam-roast, braise, and even use sous-vide techniques. When it was first introduced in Japan, it was an instant hit; the company soon had a six-month waiting list.
More recently, the company introduced the Kamado induction heating base, with precision temperature control. The Vermicular Musui-Kamado is available in the US, for the not insignificant price of $670, via the company's own website and also via the b8ta site. (A word to the wise: The company notes that "Amazon in not an official retailer for the US market. What you're seeing on Amazon are all 100 V Japanese models sold by third-party retailers.")
Over the past few months I've been experimenting with the Vermicular; my husband Josh and I have made roasted pork loin with root vegetables, pot au feu, and chili, not to mention multiple batches of perfectly cooked rice. I've become an evangelizer. There are three major pluses to Vermicular cooking: the ease of a one-pot meal; the steady, easily regulated temperature, which makes you seem like a better cook than you are; and the clever accessories (particularly the wooden trivet and the organic cotton oven mitts).
Photography by Remodelista.
Here's a simple recipe for salmon and rice adapted from the Vermicular cookbook, which features recipes suited to the device.
Steamed Salmon Rice
Cook time: 60 minutes
Ingredients:
3 rice cups (540 ml) plain white rice, rinsed
520 ml water
2 tablespoons sake
1 teaspoon usukuchi (light color) soy sauce
2 (7 ounce total) salmon filets, skin on
120g cod roe, divided into 5 to 6 pieces
10 g shredded kombu
(Additional ingredients = 330 g total)
100 g ikura (salmon roe)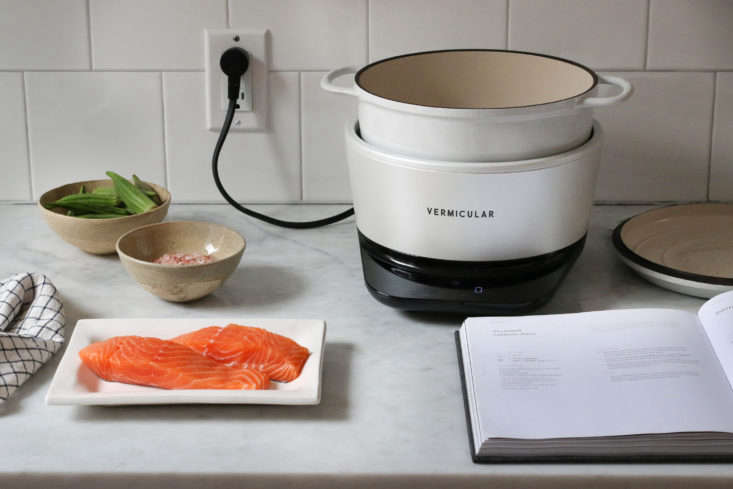 See more favorite appliances:
The Great Vacuum Debate: Dyson vs. Miele
Remodeling 101: The Viking vs. Wolf Range Debate
(Visited 235 times, 2 visits today)