How would a French costumier style her own stately country house? With quiet, rosy hues, cinematic hints of silver, and linens she sews herself.
For months we've been following French stylist and costumier Céline Sathal on Instagram as she slowly and with care restores a traditional hôtel particulier in a tiny village outside of Tolouse. Sathal, who works as a costume designer for the French theater, opera, and cinema, found the 1870s house on Le Bon Coin, the French equivalent of Craiglist ("where you can find little spoons and big houses," she says). The house, formerly inhabited by a notary's office, is situated in the small town of Grenade, "a medieval village," Sathal says, near Toulouse.
"The house was in good condition but not everything was to my taste," Sathal explains; when she found it, it was done up with ornate chandeliers and heavy curtains. Taking on much of the work herself, she tore everything out of the four-bedroom, four-bathroom house, leaving only the faded pastel-colored walls, and adding silver-tipped lightbulbs, vintage bentwood and rattan chairs, old projector lights, and sheepskins, collected for each of the births of her three children. Now, Sathal has moved into the house full-time from Marseille, where she was born, along with her boyfriend Christophe and their children, Kélit (who studies in another city, and comes home on weekends), Solelh, and Lum.
It's a work in progress, Sathal notes, but the results are romantic and dreamlike, with hints of the unexpected (and a few budget tips). Take a look.
Photography by Eefje de Coninck for Remodelista.
"When I arrived in the house, the atmosphere was quite baroque, with big velvet curtains everywhere and Versailles-style chandeliers," Sathal says. "So I started by removing everything." She traveled from Marseille with two workers she had collaborated with previously, and together they got to work for an intensive 15-day rehab, with Sathal painting the bedrooms and her studio herself.
She opted to keep the pale, faded-by-time pastel colors in many of the rooms, then added select pieces she made and collected herself. "I collect a lot of my furniture just down from my house in the square, where there is a lot of vide-greniers [flea markets], and whenever I go, there is the chance of finding something good."
"I never spend a lot of money on furniture and decoration," Sathal says. "I collect, I make, and I buy at flea markets."
The floors are also existing: "The workers sanded some floors and I finished them with a matte varnish," she says.
The petite dishwasher is made by Bosch, housed snugly in its own wooden worktop, and the range is by Smeg.
Above: Details of the livable but artful kitchen.
Above L: A slab of stone transforms a radiator into a place for display. Above R: "I found this lamp in the Café Brocante in my village and I wove the wool lampshade," Sathal says.
Above: Two of Sathal's unusual vintage lights.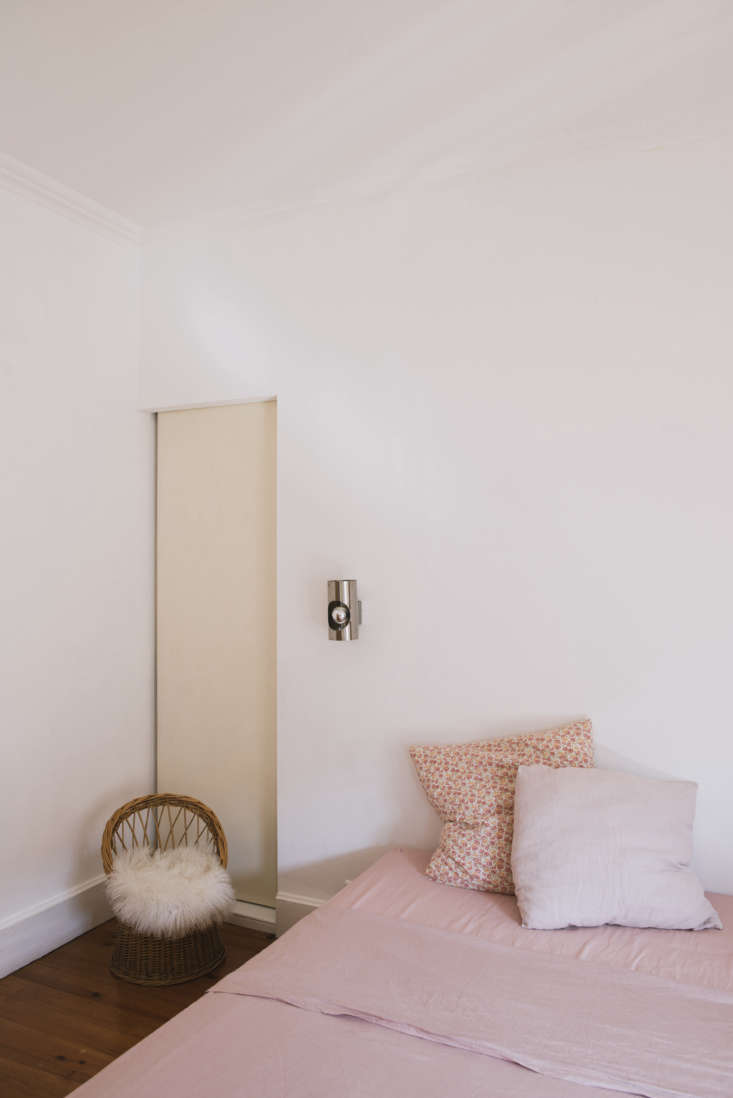 For more French makers and designers we admire, see our posts on French Style. And tour more houses in France:
(Visited 522 times, 7 visits today)