Dutch artist-designer Maaike Koster wears a lot of hats, and all of them are leaf green: A botanical painter, she has her own online print emporium, My Deer Art Shop, and recently illustrated the indoor plant guide Urban Botanics. She also runs My Deer's, a year-old design gallery in Haarlem, the Netherlands, arranged like a living room filled with art and greenery. It's located within walking distance of her family home, and both showcase Koster's work as an interior designer—one who, not surprisingly, has a way with houseplants. This past summer on Gardenista, we visited her flagship store—see Portraits of Plants by a Dutch Painter. We were so enchanted that today we're paying her a house call.
Photography courtesy of Maaike Koster.
Koster studied graphic design at the Royal Academy of Arts in the Hague; she worked as a media agency creative director before branching off on her own and devoting herself to her twin passions of botanical art and interior design. Her husband, Jeff, is the sales manager for Liebherr in the Netherlands. They use their curious cargo bike—Urban Arrow's Family model—to transport their kids to school (the front chamber opens into a seat) and to carry things to and from the store.
White-painted wood floors throughout set the Nordic tone: "We started with two layers of primer and finished with two layers of Sikkens Rubbol BL Satura, which doesn't require a top coat."
The succulent in the gray pot by the French doors is a type of lepismium. The hanging plants include ric rac cactus (Cryptocereus anthonyanus) and string of hearts (Ceropegia woodii).
The pedal trash can is the Kickmaster from German brand Wesco. (Browse our Trash and Recycling archive to see more of our favorites.)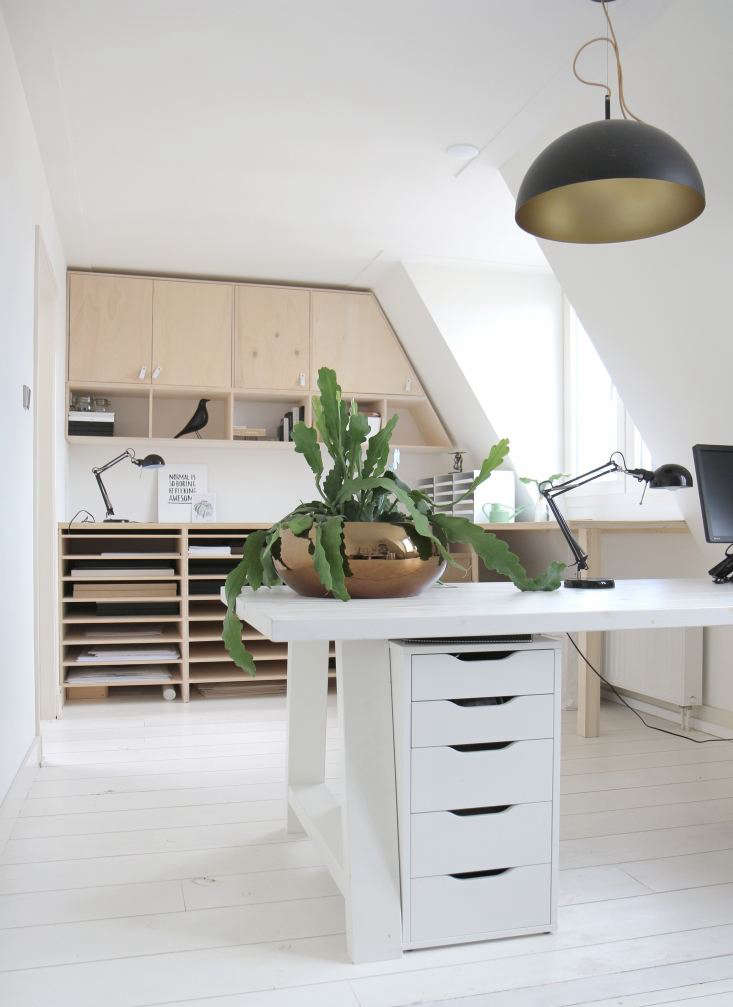 Explore three more artist residences around the world:
You need to login or register to view and manage your bookmarks.