When my son dropped a glass bottle on a subway platform in Osaka last summer, a man appeared out of nowhere to sweep away the shards—and we learned firsthand how Japan earned its squeaky-clean status. The same fastidiousness extends to people's homes—the slippers-only policy indoors is the law everywhere (we were even reprimanded for entering the foyer of a gym in our street shoes). So I wasn't surprised to learn that doing laundry is a favorite chore that often gets tackled daily ("we don't like to keep dirty clothes in the house," a Japanese friend explained). Though many people own washing machines and dryers, the latter are rarely used—air drying is far preferred as just about every apartment balcony attests.
My interest was piqued while visiting artist-confectioner Mio Tsuchiya in her narrow Tokyo house dubbed the Vertical Alley: on the rooftop terrace she had towels drying on collapsible steel hangers and socks dangling from metal clips. Mio shared the Amazon links to these household staples, and that got me started on a Japanese laundry solutions hunt.
Here are my favorite finds. Note that since washing quarters are tight everywhere and particularly in Japan, these designs are made for keeping in clean in compact quarters.
Laundry Bags, Baskets, and Hampers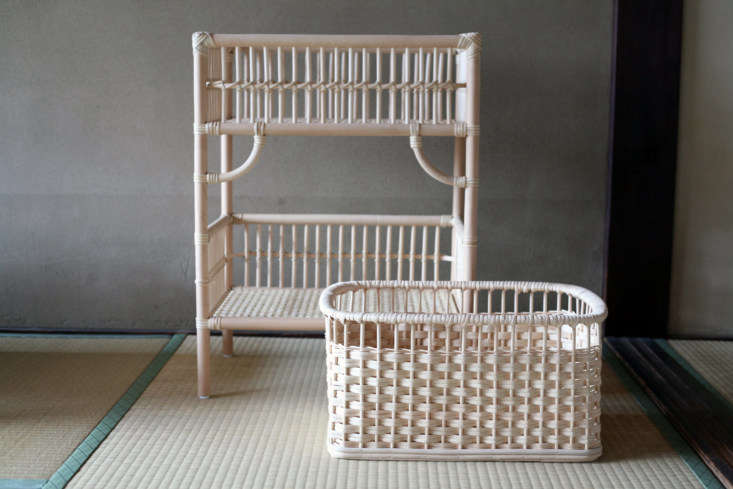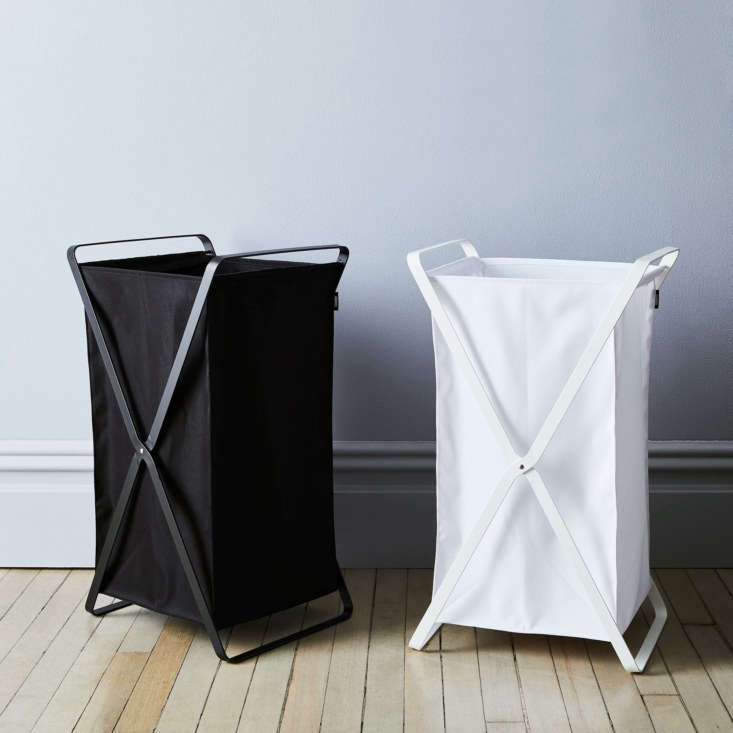 Washing Machine Shelving
Above L: Yamazaki's wall-hung Tower Trunks Laundry Shelf is $136.49 from Rakutan. Above: R: The design comes in black or white and has a wooden hanging bar.
Collapsible Drying Rack
Laundry Hangers
Above L: Ohki's Stainless Steel Folding Hanger is what caught my eye on Mio Tsuchiya's terrace; it's ¥1,760 via Amazon Japan. Above: R: The hanger collapses for storage, and, Mio, points out, is seamless and rust-proof. Tokyo-based Ohki makes a range of steel laundry designs that Mio swears by, including Futon Scissors for holding a drying mattress or mattress pad in place.
Above L and R: Aluminum Pinch with Hooks are ¥1,100 from Farmer's Table, a Tokyo household basics shop we've been following for years.
Mio tells us that in Japan people love hanging clothes out to dry so that they take on "the scent of the sun."  Above: For drying laundry on balconies these steel multi-clip hangers come in handy. Countless variations are available on Amazon JP. In the US, consider the Aoklim Laundry Drying Rack Hanger, $14.79, and the Amagong Hanging Drying Rack, $13.99, both on Amazon.
Laundry Carts
Ironing Boards
Laundry/Bathroom
Here are some other well-designed household tools from around the world: