I live in a hidden bucolic corner of Riverdale, in the Bronx, and it's a tradition in my neighborhood to leave little surprises on each other's doorsteps during the holidays. Attempting to stand out in the crowd, I've tried something new every year: homemade marshmallows, birdseed and suet stars (that got mistaken for sesame candy), a calendar of local dog portraits taken by my daughter, a fireworks Chinese lantern. And then three years ago, I made orange-spiced wine and was told I had finally come up with the perfect present. It's ridiculously easy—and delicious. It perfumes our house every year at Christmastime.
Photography by Margot Guralnick for Remodelista.
Above: Navel oranges ready for this season's batch. Only the peel goes into the wine—we eat the leftover oranges for breakfast, lunch, and dinner (when we tire of them on their own, they're especially good in a fennel salad with mint).
Above: The recipe came from Gourmet magazine—it appeared in a 2012 special-edition collection of Gourmet Holiday Recipes that I helped compile. Bay leaves and cloves are two of the crucial ingredients.
Above: Remove the peel in a single spiral, one per bottle (don't worry; if it breaks, it works equally well and looks just as good).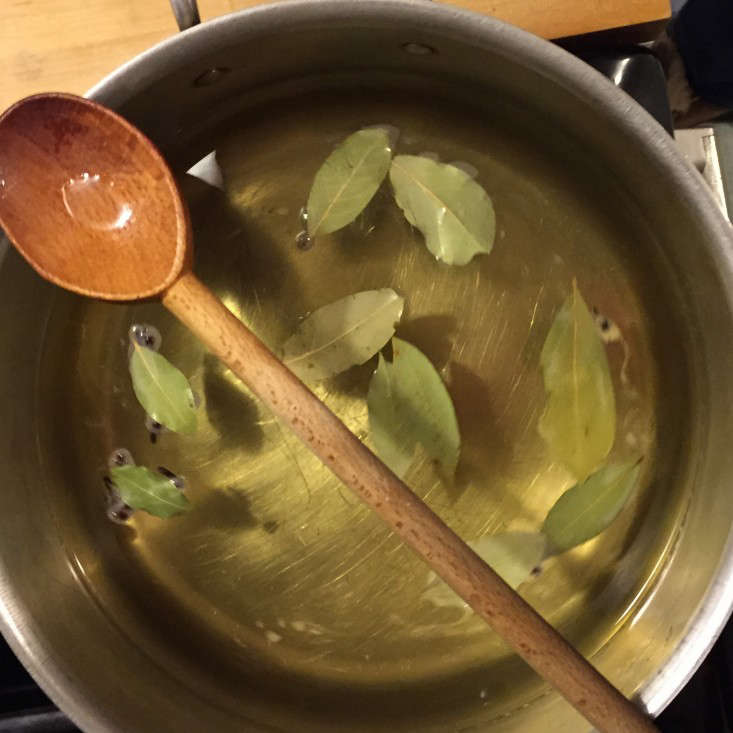 Above: In addition to white wine—Pinot Grigio and Sauvignon Blanc are good choices—the secret ingredients are Grand Marnier, Pernod, and sugar. Heat the liquid ingredients plus some sugar, bay leaves, and cloves for a few minutes. When the sugar dissolves, decant the wine into the empty bottles, each filled with an orange peel spiral, plus a bay leaf and a clove or two.
Above: I add my own Petit Chateau Margot labels (at first I made the labels by hand, decorating them with a stamp that my artist sister designed. Eventually, my husband scanned a label, and now we just update the year and print them out).
To my surprise, several recipients have asked if I make the wine from scratch—and I'm happy to be known as the neighborhood vintner. Here's the recipe, which I multiply as needed. The results are a perfect holiday aperitif, sweeter, a little stronger, and much more magical than most glasses of white wine.
Orange-Spiced Wine 
Adapted from Gourmet magazine. Makes 2 filled 750 ml bottles, plus at least a cup extra.
Ingredients:
2 bottles dry white wine (you needn't spring for anything fancy; the other ingredients dominate)
1/2 cup sugar
1/4 cup orange liqueur, such as Grand Marnier
1/4 cup anise liqueur, such as Pernod or Sambuca
 2 whole cloves
2 bay leaves (note that some are stronger flavored and prettier than others; I prefer a mild bay leaf that's long and elegant—and intact)
2 navel oranges
In a stockpot, bring all ingredients except oranges to a gentle boil (reserve the wine bottles and corks). Stir until sugar has dissolved.
Using a vegetable peeler, remove the zest from the oranges in a spiral (the original recipe suggests cutting away the white pith with a paring knife, but I usually skip that step).
Stuff a zest spiral into each bottle (and save the oranges for another use).
Completely fill the bottles with wine, and add a clove or two and a bay leaf from the pot to each bottle. You'll have a tall glass left over—cook's treat.
Leave bottles, uncorked, to cool for an hour or so.
Cork or cap the bottles and chill for a few hours.
The wine should be kept refrigerated and Gourmet says it's good for one week—but, truth be known, we continue swigging ours all winter.
Garden-to-table cocktails, anyone? On Gardenista, see:
N.B.: This post is an update; the original story ran on December 24, 2014.
(Visited 126 times, 1 visits today)