We're longtime fans of British designer Jasper Morrison, so when we learned he had designed a kitchen system for Italian manufacturer Schiffini, we were curious.
Schiffini asked Morrison to develop a kitchen system that would be "aesthetically fresh, adaptable to modern-day living, and practical for all stages of life." Morrison named his kitchen Lepic—a word he coined as an homage to Epicurus, the Greek philosopher who believed in maximizing happiness and living simply. "The majority of present-day kitchens respond to marketing rather than functional needs," says Jennifer Schiffini. "This kitchen brings it back to basics: great design, well-sought-after materials, and extreme attention to functionality and versatility."
The Lepic system debuted at Salone del Mobile recently; for the event, Schiffini created three sample versions, which Morrison named Stockholm, Tokyo, and Milan in "homage to each city's contributions to modern design." Here's a look.
Photography courtesy of Schiffini.
Stockholm
Above: The Stockholm kitchen has a stainless steel hood, cabinet fronts and edging in Douglas fir, hardware in a cast iron finish, and countertops made of indigo-black Fenix—a matte, ultra-durable Italian laminate.
Above: Morrison designed an open drawer/shelf combination for Lepic with hardware from US manufacturer Blum.
The feature is one of Morrison's favorite parts of Lepic: "The details I like most are the handles, one wood and one cast iron; the open drawers, which can be attached above the open spaces; and the overall combination of materials," he says.
Above: The standard Lepic backsplash is stainless steel in a soft-brushed finish, with customizable aluminum slots for a range of accessories designed by Morrison.
Tokyo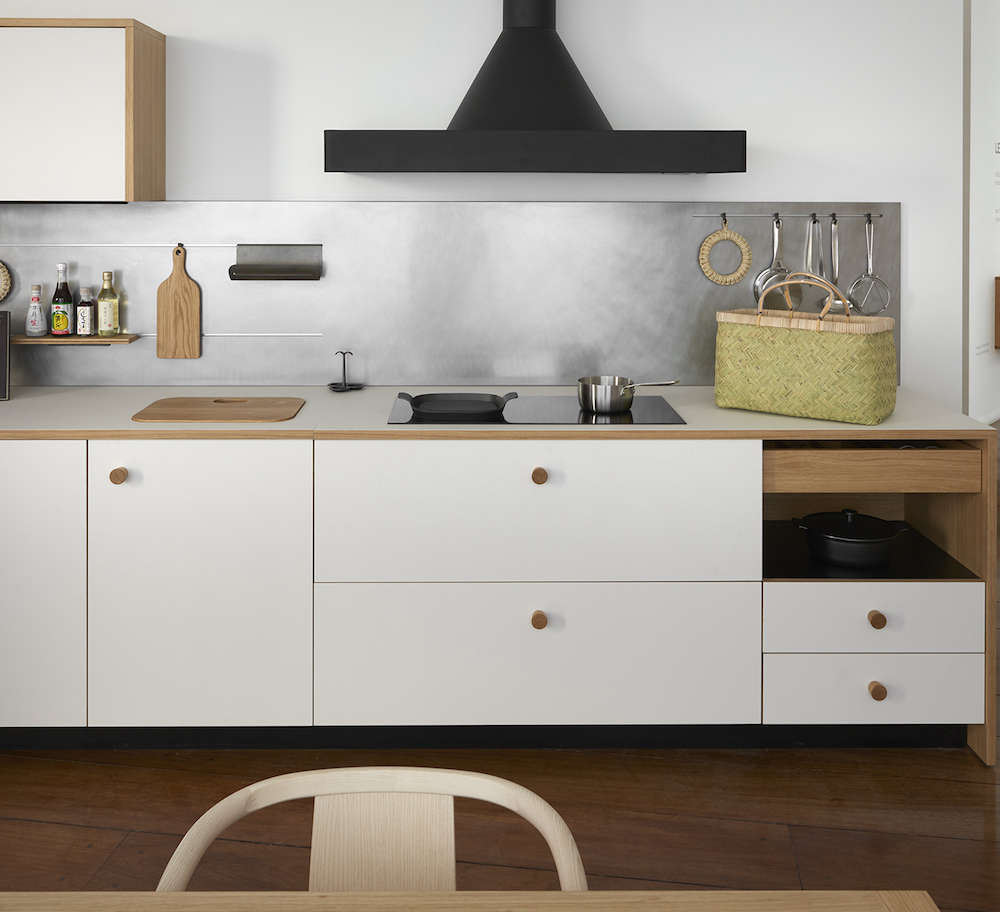 Above: The Tokyo system has white Fenix cabinet fronts and countertops; a black steel hood in a cast-iron finish; and oak accessories, edging, and drawer pulls.
Above: "We made a big effort to design useful accessories," says Morrison. The stainless back panel can be customized to hold varnished steel hooks, shelves, a paper towel dispenser, cookbook holder, sponge drainer, and more. In oak, Morrison's designs include a knife block, wine glass holder, spice rack, and cutting board.
Above: An optional oak cutting board inset into the countertop nests above a compost bin, so chefs can tip their cuttings into the bin once done with kitchen prep.
Above: Both Schiffini and Morrison worked hard to keep the kitchen affordable. "Most of my early material choices were too expensive," Morrison says. "Fortunately, Schiffini was patient enough to keep trying my ideas."
Above: Morrison designed an oak dining table for Lepic, available for purchase as a freestanding furniture piece.
Though the kitchen is not yet priced, it will fall in the middle of the Schiffini price range. "We think it's an achievement to have realized a product of great design and top-quality materials and components, yet is not wildly expensive," Jennifer Schiffini says.
Milan
Above: The Milan kitchen configuration features cabinet fronts in black-indigo Fenix, with oak facing, edging, and cabinet pulls. It has an integrated hood, a kitchen island with angled base, and a variety of open shelving configurations.
Above: The standard Lepic design uses Fenix laminate countertops, but the kitchen can be configured with any countertop material, including marble.
Above: A customizable tall unit can hold appliances, including a refrigerator or oven, or can be outfitted with shelving for storage. At right is a custom Schiffini oven by Italian appliance manufacturer Barazza.
Lepic will be available worldwide in fall of this year. Contact Schiffini for pricing and ordering information.
For more, see Bella Cucina: 8 Italian Kitchen Systems and Problem Solver: Jasper Morrison's New Desktop Charger.
(Visited 240 times, 3 visits today)