For those who covet a John Pawson–designed environment (myself included) but lack the fiscal reserves, here's something more accessible: a roundup of Pawson-designed kitchen tools, which bring a new level of asceticism to the domestic front.
N.B. John Pawson is the current artist-in-residence at the Cape Cod Modern House Trust (see Hotels, Lodging & Restaurants: Kugel/Gips House in Wellfleet) and will be speaking about his work on Saturday evening, August 21, at the Wellfleet Public Library. For more information and tickets, go to the Cape Cod Modern House Trust.
Above: Pawson's rigorously streamlined pots and pans for Belgian company Demeyere are available from Horne. The cookware is made with seven layers of heavy stainless steel around a hermetically sealed copper core for even heating and professional results. A Six-Piece Cookware Set (includes a small and a large casserole/stockpot with lids, a saute pan, and a frying pan) is $1,015 at Horne; the pieces are also available individually.
Above: John Pawson Flatware; $98 per stainless steel place setting (or $588 for six place settings) at Fitzsu Society.
Above: White Serving Bowl; 10 inches in diameter, made of glazed ceramic; $198 at Fitzsu Society.
Above: John Pawson Water Glass; set of six for $264.
Above: John Pawson Ceramic Coffee Cup; $30 each at Fitzsu Society.
Above: Oiled ebony Wood Salad Set for Belgian company When Objects Work, modeled after Japanese rice spoons; $120 at Fitzsu Society.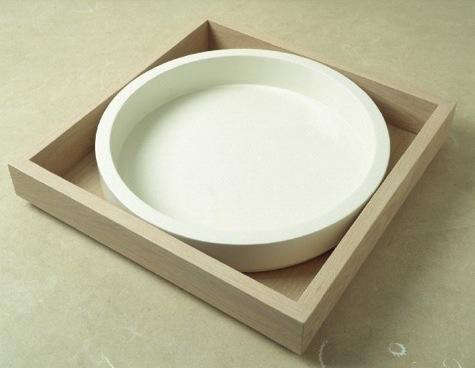 Above: Lacquered bowl with oak tray for When Objects Work; available through Matin Gallery, in Los Angeles; contact Matin directly for pricing.
Above: Living and Eating, by John Pawson and Annie Bell; $92.91 new; $14.49 used, at Amazon.
You need to login or register to view and manage your bookmarks.