A favorite with the coffee experts at Intelligentsia, the Hario Buono Drip Kettle and Ceramic Dripper are made by the Hario Glass Company, which has been in business since 1921. "Over the years, we have experimented with many different methods for brewing single cups of coffee, and the Hario produces amazing results," according to Intelligentsia. "To use a pour-over brewer most effectively, you have to dispense water right where you want it. The spout of the Hario Kettle allows you to effectively control your pour. The angle of the cone, the large hole at the bottom, and the ribbing on the side walls all help to ensure a good extraction."
Above: The Hario Buono V60 Drip Kettle has a stainless steel finish and can be used on the stove top (it won the Best New Product award at the World Tea Expo 2009); $52 at Amazon.
Above L: Use the kettle to brew pour-over drip coffee with the Hario Heat Resistant Decanter; $14 at the Hario Shop. Above R: The V60 2-cup Ceramic Coffee Dripper is $21 at the Hario Shop.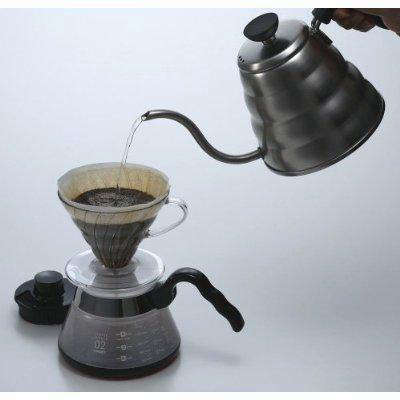 (Visited 46 times, 1 visits today)