When architect Kieron Gait was asked to add a bathroom, space for entertaining, and two additional bedrooms to a couple's modest Queenslander (a traditional Australian house that's raised on stilts) in Brisbane, he came up with a two-part solution: elevate the home to create more living space in its "undercroft" (typically used for storage), and move the entire structure further back on the property, up a gentle slope, for better light.
"The 'build under' is a typical solution to creating more space in Queensland—lifting a timber house and building under—but [usually] they build walls directly under the existing, and the resultant spaces are poorly planned and often dark and unpleasant," says Gait. With this "build under," though, designed for a school teacher and a doctor and their four kids, Gait and his team made sure that the newly functional space under the original building would be airy, inviting—and open to the outdoors.
After all, in a part of Australia where the coolest month of the year (July) still sees an average high temperature of 69 degrees farenheit, it makes sense to design a home that allows for seamless indoor/outdoor living. "We looked to create a shelter under the existing house that felt like it was part of the garden rather than the house," says Gait. "In the summer it can get hot and humid. In these hot months [the undercroft] is often the most comfortable part of the house—celebrating it is a somewhat nostalgic way of redefining the character of this space."
Below, a tour of this cool, breezy home. And be sure to scroll down to the bottom for a peek at the house pre-renovation.
Photography by Christopher Frederick Jones, courtesy of Kieron Gait Architects.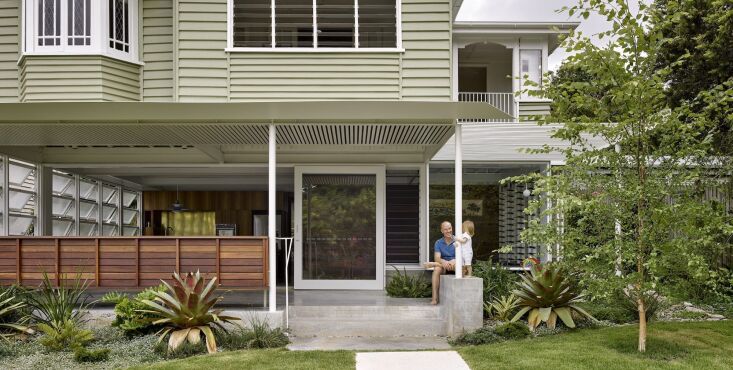 Before
For more inspired design in Australia, see:
(Visited 37 times, 1 visits today)