French designer Anne Gelbard worked with the Parisian fashion elite (Dior, Chanel, Balenciaga, Hermes) before bringing her haute couture skills to the interiors world. A chance meeting at Maison & Objets in Paris resulted in a collaboration with the owners of La Belle Juliette—a four-star hotel in Saint-Germain-des-Prés in need of refreshing. The hotel tells the story of Madame (Juliette) Récamier, known all over 19th century Europe as "La Belle Juliette." Using a vibrant color palette (all paint colors were created exclusively by Tollens for Anne Gelbard) and a wealth of props (landscape paintings, portraits, and furniture), Gelbard creates the illusion that you've just walked into Juliette's townhouse; indeed, you might even forget it's a hotel. For more information, go to La Belle Juliette.
Photography by Jerome d'Almeida.
Above: Gelbard designed the hotel to reflect Juliette's life and times, with Directoire and Empire pieces. The restored furniture pieces, re-imagined by Ludovic Avenel, are sourced from antique dealers in Brussels and from the previous incarnation of the hotel.
Above: Authentic props evoke another period of history.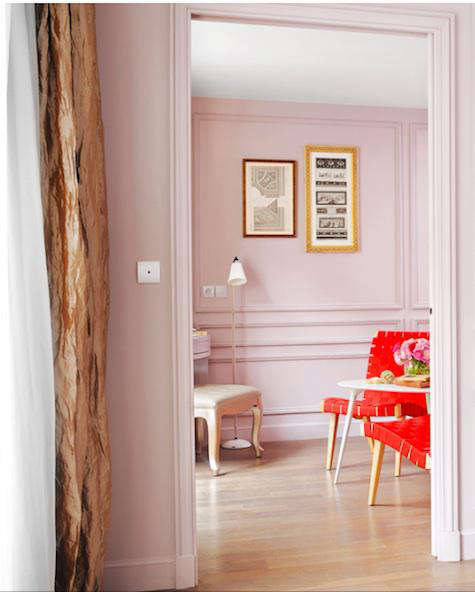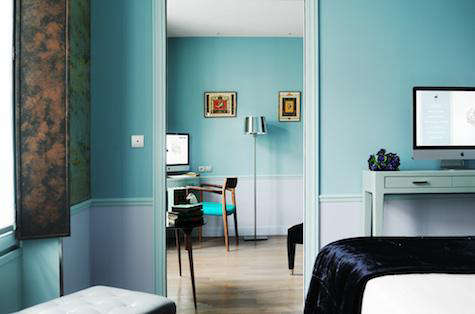 Above: The decor combines a certain classicism, mixing in 20th century Danish and American furniture.
Photography by Jerome d'Almeida