We first spotted the Nordic Bakery on The Curious Eye; since then, it's garnered a cult following among the city's food and design cogniscenti. Owner Jali Wahlsten worked with architect Bert Rozeman on the interior, pulling off a Nordic look without falling back on the usual Scandi standbys. "We used classic Finnish modernist furniture—Alvar Aalto chairs and tables and Ilmari Tapiovaara tables and benches, but in unusual finishes," according to the design team. The Nordic Bakery is located at 14a Golden Square in Soho; a Marylebone branch has just opened on New Cavendish Street.
Above: Tables and benches by Finnish designer Ilmari Tapiovaara offer group seating opportunities. Vertical planks of heat-treated pine line the walls; the floors are gray linoleum, which "gives a pleasant soft bounce."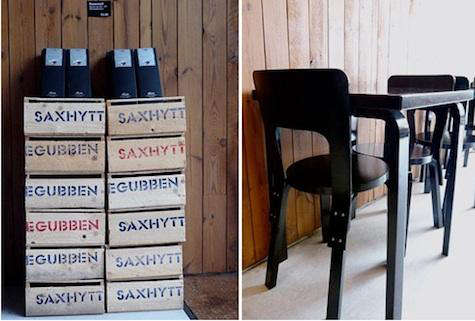 Above: The design team used Alvar Aalto tables and chairs in glossy black.
Photos via The Curious Eye and Rozeman Architect.
(Visited 91 times, 1 visits today)