Located in Stockholm's Old Town, Den Gyldene Freden is owned by the the Swedish Academy, which selects the Nobel Prize for Literature (legend has it that many winners have been anointed at the Academy's regular table on the premises). Opened in 1722, the restaurant is a "living example of a typical Swedish 18th-century tavern," as the owners say; the fare is "simple but rustic everyday cuisine that originates from the Swedish countryside." The interior, which remains practically unchanged since its start, has been refurbished several times over the years but still retains its Old World atmosphere.
Above: Den Gyldene Freden takes its name from the Treaty of Nystad, brokered in 1721 (the year prior to the restaurant's opening).
Above L: The restaurant's menu. Above R: Antique Swedish stemware.
Above: The late Swedish folk singer Evert Taube was a frequent diner; his regular table is shown above.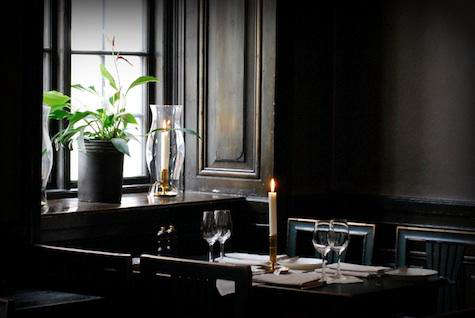 Above: Hurricane candles combat the lack of daylight.
Above: The taproom features bare wood floors and antique furniture.
Above: Butter-yellow walls warm the dining area.
Above: A closeup of a candlelit table.
(Visited 109 times, 1 visits today)