When Jen Wu, a Boulette's Larder alum and a music industry veteran, embarked on her mission to create Cookhouse (a venue where people can come together for events, dinner parties, and cooking classes), she was intent on finding out what it was "that made people feel comfortable at the table." Wu wanted a space that was open yet welcoming, intimate yet large enough to accommodate a crowd. When Wu found a commercial loft in North Beach, located above the iconic Vesuvio Cafe (and across from City Lights Bookstore), she knew she had found her space. With the help of her business partner, Amy Bryan, Wu outfitted the kitchen with state-of-the-art equipment, including an induction cooktop (to educate people on the benefits of cooking with one) as well as top-of-the-line kitchen tools and dinnerware. For booking information and class schedules, go to Cookhouse. Photography by Sierra Fish.
Above: The 1913 building on Columbus Ave sits above Vesuvio Cafe.
Above: Flattering lighting is key, according to Wu.
Above: The kitchen features cabinetry by Jason Gaidmore. For ideas on kitchen design, Wu poured over magazines and scoured web sites for ideas (we were delighted to learn that Remodelista was a key resource for her).
Above: A richly veined marble countertop features a custom wood seating area and stools, where according to Wu, "most of the activity happens, the action is always in the kitchen.
Above: The state-of-the-art kitchen features a Thermador range, induction cooktop, and a deep farmhouse sink.
Above: Faces Flatware from renowned chef Ferran Adria's line.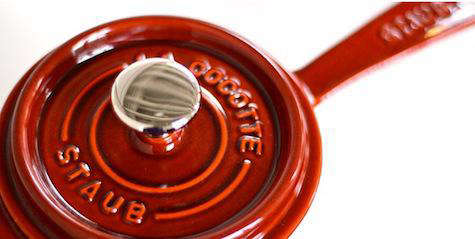 Above: Cookware from Staub.
Above: Plenty of comfortable seating and dining tables to enjoy the post prep dinner.
Above: One of the many windows in the airy, loft-like space.
(Visited 49 times, 1 visits today)