Combining the best of industrial engineering and sculptural grace, the pared-down Jean Prouvé Potence Lamp is a design icon (as such, it comes with lofty price tag). But thanks to a DIY version developed by a Las Vegas couple, this emblematic light really is within reach.
Above: Extending seven feet into the room and rotating 180 degrees, Prouvé's original Potence Lamp is a dramatic but practical lighting solution for of this intimate Brooklyn apartment; $1,720. Photo by Matthew Williams for Workstead.
Above: Originally a DIY project for his own home, Logan Hendrickson's OneFortyThree Potence-Style Lamp comes in standard sizes of 48 inches for $350.
Above: The OneFortyThree Potence Lamp is also available in white.
Above: Another popular Swing-Arm Option by OneFortyThree is this 62-inch lamp, which comes in machinery gray, white, black, or, the more daring, plum; $275.
Above: Like his Potence lamp, Hendrickson's swing arms can be custom ordered in any length.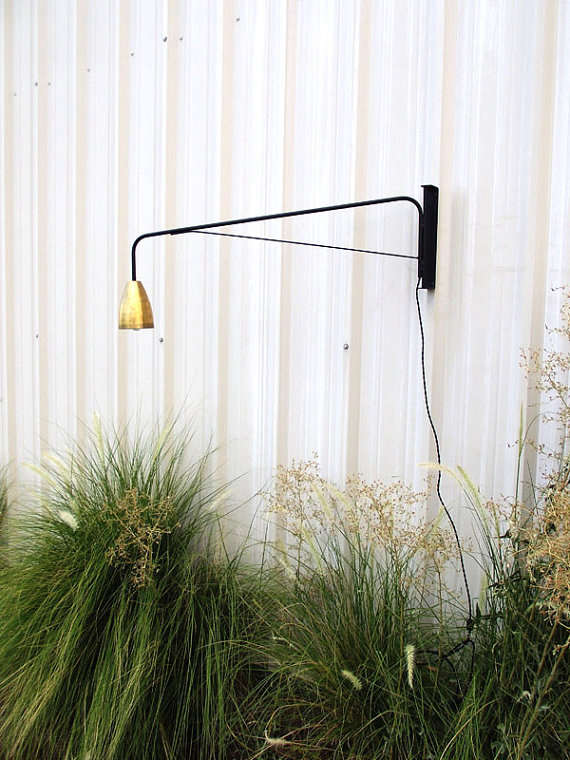 Above: Shades, too, are interchangeable. Pictured here, a brass option is a warm complement to green grasses.
N.B. See our gallery of Industrial Spaces.
(Visited 438 times, 3 visits today)