If you love entertaining, you know how satisfying it is to pull off a dinner party for a crowd. The only downside? The cleanup. That's where GE Monogram's Fully Integrated Dishwasher comes in; it's capable of handling 14 place settings in one load–and it has adjustable racks that make fitting odd-sized serving pieces easy. Cleaning jets (102 total) reach all corners of the washer's interior, meaning no plate or spoon is out of reach. And perhaps best of all, the machine is quiet–it's lined with sound-absorbing materials and has a smooth running pump–so you may need to check the front LED display to make sure you remembered to turn the dishwasher on.
Above: Monogram dishwashers are eco-friendly, with settings that allow you to save water by washing a half load using either the top or bottom rack. Fully Integrated Dishwashers start at MSRP $1,599*.
Above: Monogram dishwashers are installed flush with kitchen cabinetry, and dishwasher fronts are customizable to match your kitchen cabinets.
Above: The dishwasher's top rack is adjustable to fit tall stemware or salad plates. Tines on the lower rack fold down to accommodate bulky pans. Dedicated bottle jets deliver a complete clean to wine carafes, sports bottles, travel mugs, and other challenging items.
Above: The uppermost cutlery drawer glides out to hold an entire flatware collection–including ladles, carving knives, and other cooking and serving utensils. There's also an additional three-piece silverware basket on the bottom drawer.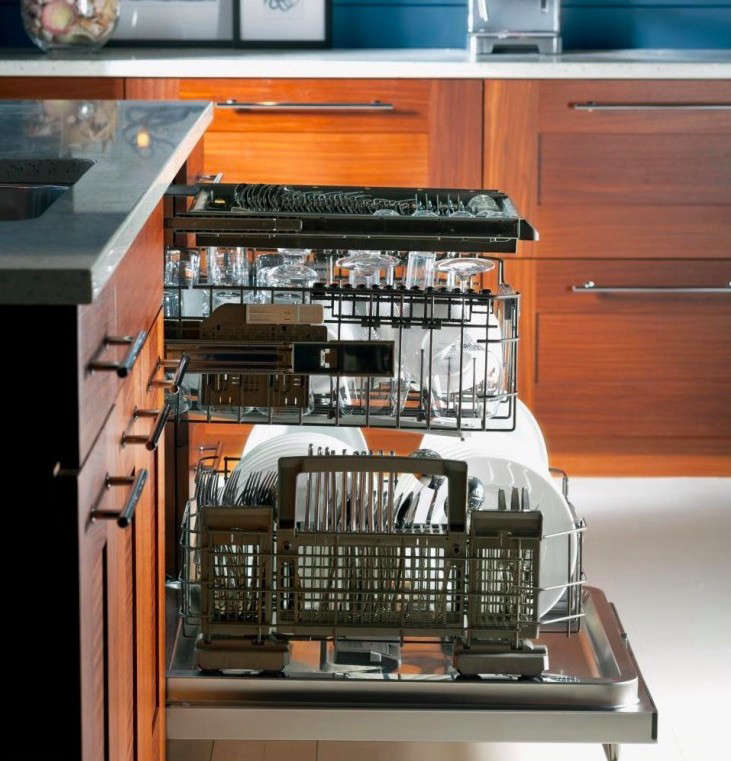 Above: The dishwasher's interior is made of stainless steel. A high-output drying fan has multiple speeds to prioritize time or eco-friendliness when drying your dishes.
*Resellers unilaterally establish their own resale prices and margin requirements.