Another Country is a new line of British furniture from Paul de Zwart (the founding publisher of Wallpaper magazine) featuring contemporary craft furniture made by hand in a small workshop in Dorset. The first collection, Series One, offers nine solid oak pieces based on familiar forms of craft furniture—British country, Shaker, Scandinavian, and Japanese—pared down to their most basic elements. While the line's official debut is at the upcoming London Design Festival (September 18-26), Another Country's easy-to-navigate online site is open and ready for business. Worldwide shipping is available (US shipping rates are listed on the site and are calculated in the online ordering process).
N.B. A few additional pieces, including a dining chair by German designer Mathias Hahn, a kitchen stool, and a selection of wooden accessories will be on view at London Design Festival. For more information, read a short Q & A with Paul de Zwart at Dwell.
Above: The three-legged Stool One is made from natural waxed solid oak and is available in four finishes—oak, black, green, and red—£145. A smaller Kids Stool and Kids Step-Up (a four-legged version) are also available.
Above: The versatile Bench One comes in an oak or black finish; £395.
Above: The Day Bed One is available in an oak or black finish and comes with or without a cushion; £925 without the cushion, £1,390 with the cushion.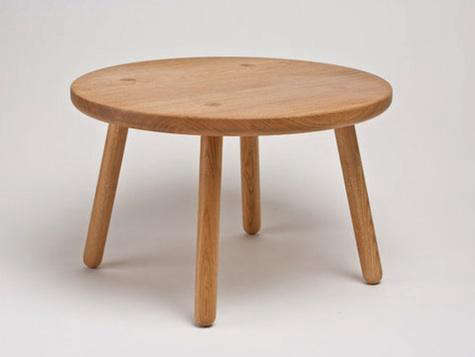 Above: The circular Coffee Table One in oak or black; £435.
Above: The Dining Table One is available in oak or black finish; £1,250.
Above: Console One in oak or black finish; £545.
(Visited 131 times, 1 visits today)