Imagine this renovation nightmare: Having chosen to install hardwood flooring and pored over the options, you select a beautiful wood, pay for it, and have the contractors lay it down. Then, you're told, you need to choose a finish. You choose one that seems innocuous enough, but the next thing you know your floors are glossy or, worse, an unwanted yellow color. How to avoid making the wrong choice after all of that investment and care?
While it's best to finish all hardwood floors with some kind of finish, or topcoat, to protect them from scuffs, scratches, and spills, the options for doing so are seldom talked about. Different finishes work best for different households—it depends on the look you want, expected wear and tear (like kids and dogs tramping in and out), how much cleaning and maintenance you're up for, and more.
To get some inside info, we talked with Craig Margolies, a co-owner of The Hudson Company, a New York City–based firm that specializes in custom wood flooring and paneling, to get the lowdown. Here's a cheat sheet, to avoid any post-installation surprises.
Can I finish (or refinish) a floor myself?
"Sure, a homeowner can rent a floor sander and apply the finish," Margolies says. "But most people hire professionals who know how to contain the dust during on-site sanding." (Ask anyone who's done this job once—never again. Trust me on this.)
Are floors always finished on-site?
If you're having a new floor installed, prefinished wood is now common. "All wood flooring used to be sanded and finished in the field," says Margolies, but now 75 percent of the floors they lay are prefinished. Customers see exactly what they're getting, and can walk on it as soon as it's laid. Plus: No dust! Prefinishing also facilitates ultraviolet curing, a new process that makes the surface extra durable. (UV curing can also be done on-site, and cuts the turnaround time considerably.)
What are the main options for floor finishes?
Whether a floor is prefinished or finished (or refinished) on-site, there are four basic types of products most commonly used: water-based polyurethane, oil-based polyurethane, oil, and wax.
1. Water-Based Polyurethane Finish: For Low-Maintenance, High-Traffic Households
When polyurethane arrived on the scene in the 1970s, it was hailed as a superior floor finish—easy to apply and super tough. But back then all polyurethanes were oil-based, and high in volatile organic compounds, or VOCs, that can give off noxious chemicals even after drying. (Read more about this in Remodeling 101: All You Need to Know About VOCs in Paint.) Now we have water-based polyurethanes, with low or no VOC content. At first these weren't quite as tough as oil-based polys, but today's formulations can be even more durable. This is the floor-finish most often used today.
Pros:
Low odor and low VOC content.
Available in different sheen levels: matte, low gloss, and high gloss.
Fast-drying; you can walk on it the next day (in stocking feet, anyway).
Clear in color; it won't tint wood another shade.
Very tough and scratch-resistant.
Regular cleaning is the only maintenance required. "Remove dirt and abrasives using a soft terrycloth mop and a recommended cleanser," says Margolies. "If you plan to recoat at some point, don't use wax or other products that would affect bonding—even Pine-Sol and Murphy Oil Soap can leave a residue."
Cons:
You can't just touch up high-traffic or damaged areas; to refinish, you'll have to re-sand and recoat the floor in its entirety. If your floors get a lot of wear, that might be every few years. But with careful upkeep (and rules like "shoes off at the door"), a floor might last 20 years before it needs refinishing.
2. Oil-Based Polyurethane Finish: For Traditionalists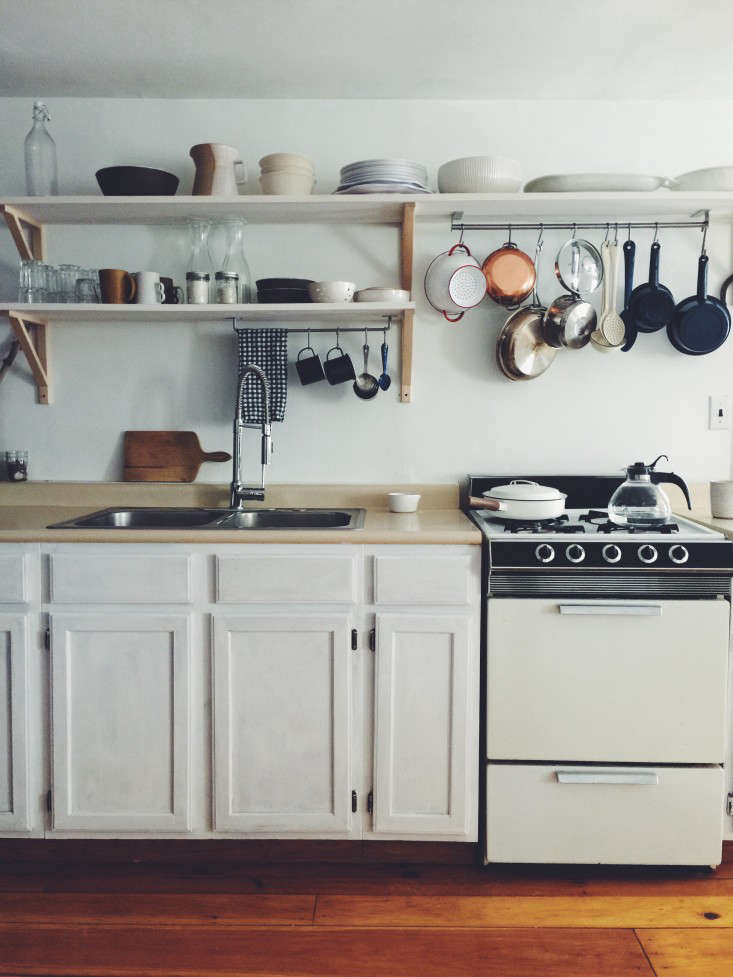 These finishes tend to be used by old-school tradesmen who remain convinced that oil-based poly gives the most durable surface. If you're a traditionalist, consider these pros and cons:
Pros:
Less expensive than water-based poly.
Low VOC content.
Available in different sheen levels: matte, low gloss, high gloss.
Slightly more viscous than water-based polyurethane, and gives a warmer finish.
Durable surface, not prone to scratching.
Regular cleaning is the only maintenance required.
Cons:
Can impart an amber color.
Can give off heavy odors.
Slower-drying than water-based poly.
Generally less durable than today's water-based polys—Margolies says oil-based polys lost a lot of strength when the EPA required manufacturers to cut VOC content.
As with water-based polys, you can't spot-refinish; you need to do the entire floor.
3. Oil Finishes: For Fans of Euro Style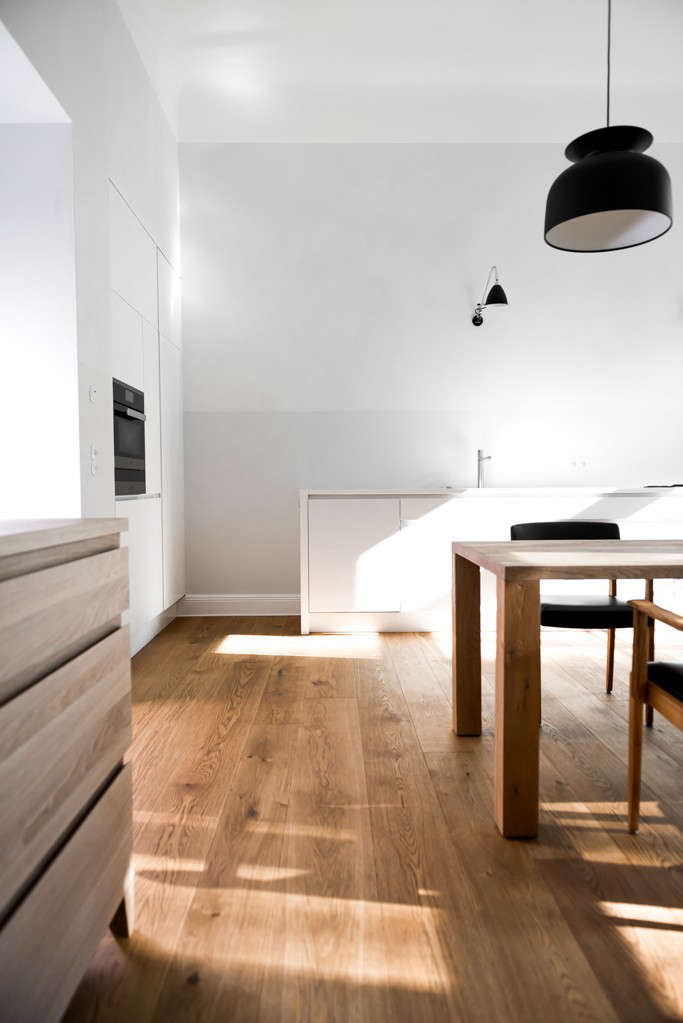 A recent trend is what Margolies calls a "European-style" finish, achieved by applying a light coat of oil or an oil-wax product. "Manufacturers have proprietary formulations whose ingredients vary," he says, "but the root is a natural oil of some sort, like tung oil, plus additives that can include wax."
Pros:
Low VOC content.
Low build-up.
Gives floor a warm feel.
Easily applied (some only require one coat).
Brings out the natural grain, especially if flooring is walnut.
Scratches are easily fixed by applying the recommended cleaner.
Cons:
Slow-drying—it can take up to 72 hours to dry if many coats are applied.
Requires more maintenance. "Besides regular cleaning, you need to refresh the surface every few months, using a specific product, and apply a light coat of the oil once a year," advises Margolies.
It's not the most durable—but, as mentioned above, scratches are easily repaired.
4. Wax Finishes: For Hipsters
Margolies calls this type of finish "historically revered," but says that maintenance issues have led to its fall from favor, whether paste or liquid wax.
Pros:
Low VOC content.
Gives floor a warm feel with a matte or low-sheen surface.
Enhances natural grain and color.
Easily repaired by applying more wax.
Cons:
Floor must be sealed before applying wax.
Requires multiple coats to build up depth.
High-maintenance: Needs regular buffing and recoating.
Can darken wood.
Not very scratch-resistant (but scratches can easily be repaired).
Which finish is the most cost-effective?
When it comes to price, Margolies notes that costs can vary widely since so many factors are involved. But he says that a water-based polyurethane finish can range from $4 per square foot to $11 or $12, and an oil-based poly would be slightly less. An oil finish costs more—say, about $1 more per square foot, and a wax finish is the most expensive.
Which finish should I choose?
Margolies is reluctant to state a preference, but for a natural option, he seems to lean towards oil finishes. "Polyurethane is essentially a chemical combination, like a plastic; it's born in a laboratory," he says. "There are a lot of good things about it, but if you want to bring out your wood floor's natural look and feel, an oil or natural wax is best. When light hits an oil finish, the wood drinks it in."
But even as oil finishes gain popularity, many Americans resist the extra care required. What's next? Manufacturers are now making water-based polyurethanes that resemble an oil finish, but with the low maintenance and durability of a poly. Stay tuned for a best-of-both-worlds option.
See also Ask the Expert: The Ins and Outs of Wood Floors. And for more insider insight from the Hudson Company, see Expert Advice: The Ins and Outs of Reclaimed Wood Flooring.
And for more on flooring, see:
N.B.: Featured photograph by Magnus Pettersson and Sarah Van Peteghem of Coco Lapine Design, from Small-Space Living: A Grand Two-Room Apartment.