This sexy, minimalist overhaul is the work of interior and furniture designer Jacek Kolasinski of Loft Szczecin, a firm based in Szczecin, Poland (an hour and a half north of Berlin). The grand structure was used as a hospital during the Berlin Wall era and then fell to ruin. It's since been converted into four residences; this one belongs to a family of four, who gave Kolasinski total freedom to do it up–with restraint.
Photography by Karolina Bak via Loft Szczecin.
"My concept was to use classic Bauhaus elements from the twenties and combine them with Scandinavian designs and some Polish accents," says Kolasinski. Above L: A Vitra chaise found nearby in an old warehouse under a pile of windows and newly reupholstered. Above R: Gubi's Semi Pendants, a 1968 design by Claus Bonderup and Torsten Thorup, hang in the entry, which is furnished with a bench and wall-hung key cabinet by Kolasinski, who told us, "The chest is used to store shoes; it was inspired by old Polish dowry chests."
Above: In the living room, leather sofas supplied by the owners stand under a Bent Chandelier by New York architecture firm Workstead. The framed posters are by Polish artists from the fifties and seventies–bringing to light work from his country is one of Kolasinski's missions.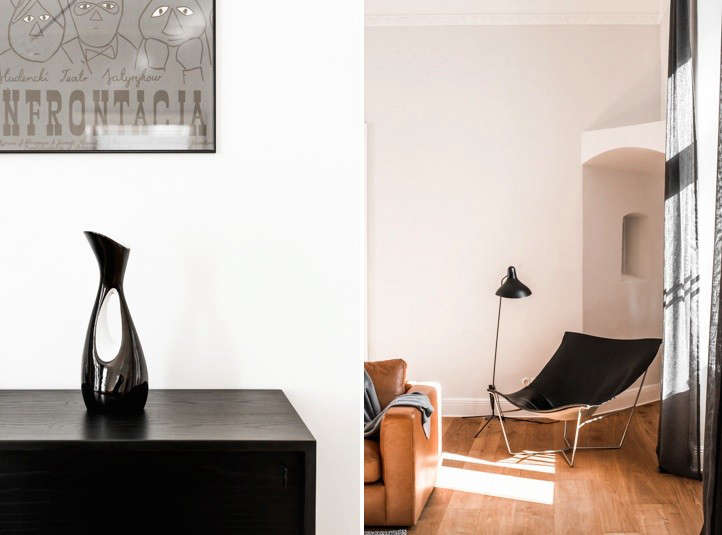 Above L: A midcentury Polish vase. Above R: A Bernard Schottlander Mantis floor lamp and a leather chair bought at auction.
Above: The black midcentury sideboard is another of the many pieces Kolasinski bought at auction and had restored in Poland–Loft Szczecin also sells refurbished Danish, Czech, and Polish furniture from the twenties, fifties, and sixties and is a source worth discovering.
Above: A view into the kitchen.
Above: Gubi's Ronde Pendants by German designer Oliver Schick hang over the family table in the streamlined eat-in kitchen.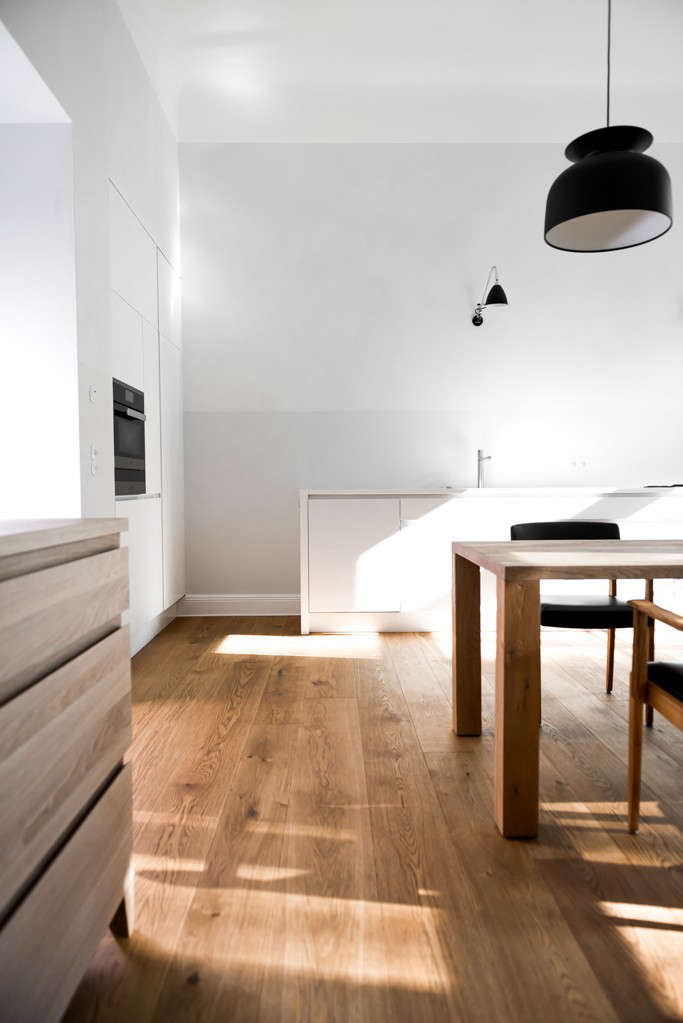 Above: The wide floorboards are oak with an oil finish.
Above: The apartment overlooks parkland. Kolasinski had the curtain rods fabricated by a locksmith–"thanks to a very special construction, installation elements are not visible." All the apartment curtains are sheer linen sewn in Poland.
Above: The kitchen has a Corian counter with integrated sink and Bestlite Wall Sconces. Like the look? See Corian Countertops (and the New Corian Lookalikes) and 11 Best Industrial-Style Sconces for the Kitchen.
Above: Kolasinski made the table in the formal dining room with Vitra legs purchased at auction. The chairs came out of Kodak's old Berlin headquarters. The hanging lights are by UK designer Samuel Wilkinson for Decode.
Above: The plates on the wall are vintage Polish designs: "They're the work of some of the best Polish sculptors and graphic artists," says Kolasinski.
Above L and R: The chairs are backed in velvet of varying shades.
Above: Gray linen upholstery and bedding in the master bedroom. The angled oak bed and bedside table are Kolasinski designs. The bed linens are by Polish company Yelen.
Above: Kolasinski's designs for the house were fabricated by Marcin Wyszecki at Loft Szczecin's workshop in Poland using joinery and other traditional techniques. "Carpenter-made wooden furniture creates a cozy atmosphere in the apartment," says Kolasinski.
Above: Kolasinski cloaked the bathroom in shades of fog and designed the oak chaise and sink cabinet. The wash basin is a Philippe Starck design for Duravit. The walls here and throughout the apartment are treated with limewash paint–go to Remodeling 101 to learn about the age-old material and how to use it.
Above: The room is anchored by an extra-tall painted baseboard highlighted with a stripe. The steel and wood chair is Swedish design firm Afteroom's "homage to the functionalism."
Above: The hanging wood-framed mirror is Kolasinski's Lustro design. For bathtub ideas, see 10 Easy Pieces: Freestanding Modern Bathtubs.
Above: The tall, dark baseboards are also practical–they protect against moisture. See more of Kolasinski's work at Loft Szczecin.
Browse our Architecture gallery, and go to our Designer Visit and House Call posts to tour more remodels, including:
(Visited 118 times, 1 visits today)