After a summer spent traveling (collectively, we visited Copenhagen, London, Lisbon, Paris, Dublin, Marfa, and more), we're back at our desks sorting through our finds. Here are 10 design trends currently on our radar for fall:
1. Stained Glass


Above: Is stained glass making a comeback? We think so; here's an example we spotted at Native Bio Bistro in Antwerp (photo via Native).
2. The "It" Chair
Above: Faye Toogood may have designed the Spade Chair in 2012, but lately we've been spotting it in stylish interiors everywhere, including The New Road Residence in London (the Spade Chair in ash is available at Garde in Los Angeles for $1,295).
3. Flatware as Art
Above: Jewelry for the table: We've been noticing a new wave of artisanal flatware designs emerging, such as this Rhodonite stone and steel set from Baciocchi Associati for Nilufar (also see 10 Easy Pieces: New Artisan Flatware Designs).
4. DIY Faucets Made from Plumbing Parts
Above: The handmade faucet look is everywhere; we spotted this one in a project by London architect Simon Astridge (stay tuned; later this week we'll be posting on five off-the-rack industrial-looking faucets).
5. Carnations
Above: Over on Gardenista, Michelle explored the return of the carnation recently (see Carnations: Rethinking a Supermarket Flower). Floral arrangement and photography by the talented Sophia Moreno-Bunge for Gardenista.
6. Brown Furniture
Above: It's an interior design adage that every room should have a touch of red. Our new mantra? Every room should have a piece of what designers call "brown furniture," unfashionable, dated pieces that counteract perfection in on-trend rooms. Shown here, a clean-lined space by Studio Oink humanized by the addition of a traditional chest of drawers (see the whole project at Earthly and Ethereal: An Apartment Makeover by Studio Oink).
7. Fringe
Above: When I browsed the North Modern show in Copenhagen in August, it seemed fringe was on everything; rugs, pillows, throws. Then, in London, I spotted fringed rugs at Habitat and Conran and several other housewares mainstays. Shown here: the Raw Rug from Hay in Copenhagen is available in anthracite, gray, and midnight blue.
8. Handblown Glass for Everyday Use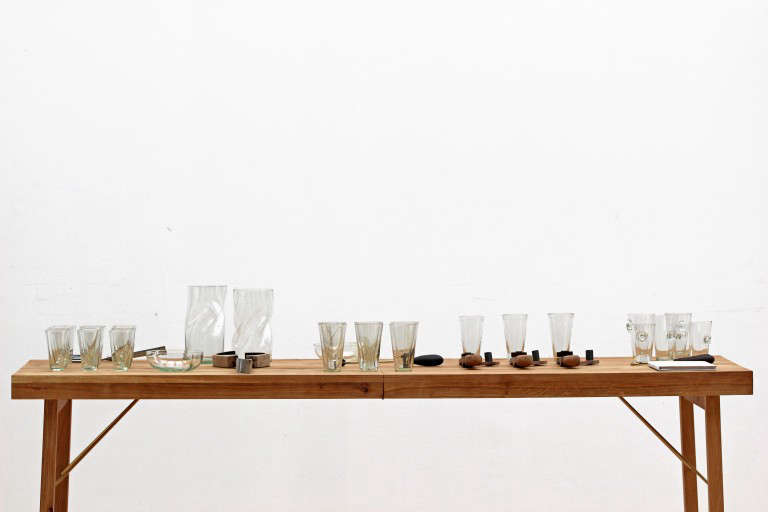 Above: Another trend spotted at North Modern in Copenhagen: handmade everyday glassware (we especially like pieces from Rick Gerner).
9. Ceramic Lighting
Above: We're noticing sculptural handmade pottery table lamps everywhere (we'll be posting on this trend soon). Show here, a trio of lamps by LA potter Carmen D'Apollonio.
10. Layered Textures
Above: The sheepskin trend is taking a new form in layers: long Icelandic sheepskin layered with curly white, fur hides, pillows, and more. Photo courtesy of Carla Zwart of Met Melk & Suiker.
What are our picks for the great outdoors? Check out 10 Best Garden Design Trends for Fall 2016 over on Gardenista.
(Visited 30 times, 1 visits today)