House of Hackney founders Frieda Gormley and Javvy M. Royle describe their subverted take on the traditional as "Colefax and Fowler on acid." Started in 2011, the duo's line of bed linens, wallpaper, and home furnishings features a distinctly British vibe; the products are largely made by traditional UK-based specialist factories (including the lampshade manufacturer for Downton Abbey). By converting their Victorian townhouse, located in Hackney (of course), into their showroom, they have created a seamless backdrop for their products.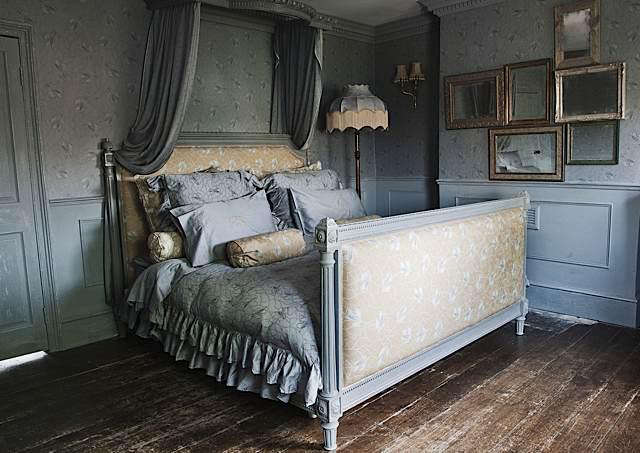 Above: The House of Hackney product line includes wallpaper, bed linens, and home furnishings.
Above: "Queen Bee is a luxe trompe l'oeil," the couple says, "which plays with scale and deception against a palette of sage greens and dove grays with golden highlights of ochres, sand, and stone." Photograph via Style Bubble.
Above: An assortment of framed mirrors.
Above: Old poison bottles decorate the dresser. Image via Style Bubble.
Above: A mix of patterns from the House of Hackney's fabric lines.
Above: House of Hackney's lampshade manufacturer also makes the lampshades for the sets of Downton Abbey. Photograph via Style Bubble.
Above: A detail of the lampshade in the Queen Bee print. Photograph by Felicity Ieraci.
Above: The lampshade creates a soft, warm glow. Photograph via Style Bubble.
(Visited 15 times, 1 visits today)