San Francisco-based Shilpa Rathi returned to her native India to create her hand-blocked naturally dyed linens for her eco-friendly, eponymous line of bedding and pillows. Rathi, whose father owns a cotton mill in Central Maharashtra, tells us, "I grew up in India spending my entire childhood in a textile family listening to click-clacks of the looms, needles, and shuttles and playing amid the array of colored yarn and textiles." Tapping into her family heritage, Rathi works with artisan groups from all over India that specialize in traditional arts and age-old techniques (using cow-dung and natural bleaching from the sun) to create her line. Read on for her explanation of how the wood block patterns on the bedding are created.
Above: Euro Cushion Covers from the Wild Indigo Collection; $79.99 each.
Above: Raysha Sheet Set; $324.99.
Above: The woodblock prints are created with a hand carved wooden block of teak wood that is first cured, dried, and sanded before it is carved with a design. Color dyes for the hand blocking are taken from native flowers, leaves, and nuts sourced from all over India.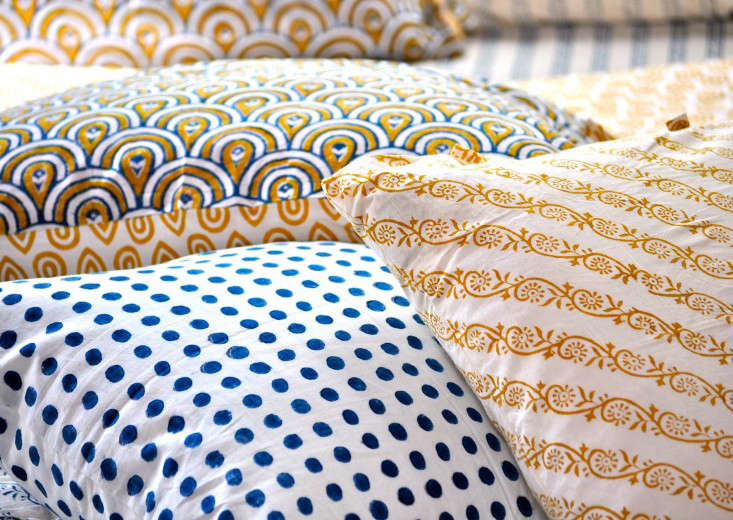 Above: Once the fabric is printed with different vegetable dyes to achieve a desired color and the pattern, it is washed by hand in a river, steamed, boiled, and sun dried. To minimize stains and smudges, the fabric needs to be laid out to dry on the just the right shade of sand.  Polka Dots Cushion Cover; $49.99.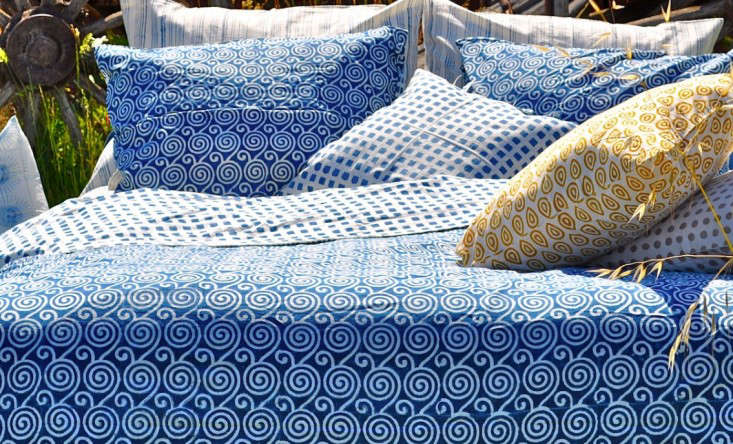 Above: Belize Chauras Duvet Set; $499.99.
For more colorful Indian linens, check out John Robshaw.
You need to login or register to view and manage your bookmarks.