Every woman (and man) should love their contractor. Why? Because the contractor is like the glue of a project. While an architect creates and oversees the design, the contractor and his team of workers–subcontractors–executes the vision. It's the contractor who you will always find on site and he's the person everyone turns to for help and problem solving as construction progresses. We asked Sonoma-based general contractor Erio Brown to fill us in on the crucial things to consider and how to find the contractor who is right for your job.
Photography by Liesa Johannssen for Remodelista.
Remodelista: What's the biggest mistake people make when hiring a contractor?
Erio Brown: Sometimes people hire a contractor only because he or she came in with the lowest bid. You should try to hire a contractor who has a good reputation, someone who comes to you through referral. There are contractors who will lowball a bid in order to get the job and then bury the client with change orders–a change to the original scope of work on the contract–that can be costly. Always ask for references and then interview the contractor's previous clients if you can.  
Above: Erio Brown reviews plans on site.
RM: How do you make the experience a collaborative thing and not just a business transaction?
EB: Yeah, this can be a tough transition to make, but I think it's very important. The bottom line is the client needs work done on their home or business, and they have a limited budget. The contractor needs to earn enough to cover all of the materials, plus labor, insurance, etc, and still make a profit. During the bidding process, the client and contractor are figuratively sitting across the table from one another. But once the contract is signed and an agreement is reached, it is critical that they are now on the same side of the table and it becomes a partnership.
Above: A Sonoma house in progress designed by architect Robert Baumann; Brown is working on the project as subcontractor to Jon Curry of Landers Curry.
RM: How do you begin the process?
EB: I always try to have the initial meeting at the project site, even if it's a bare patch of land. This helps put the client at ease because we're meeting on their turf, and, of course, it's necessary in order for me to get a real sense of the project. That first meeting is really to see if you have a connection, and that first impression is important. Also, if the homeowner signs the contract in the contractor's office it's very difficult to cancel. But if the contract is signed at the homeowner's property, then you have three days to cancel.
Above: Brown mocks up a stair banister design to show the Sonoma client.
RM: Do you work with your clients on site?
EB: This should be a real partnership and there should never be a problem with the homeowner coming by the job at any time. Many times the client will just walk around the job and then leave without saying a word. They may want to give their friends a tour. It also allows the contractor and homeowner to work together and really fine-tune the project. I am a big proponent of doing mock-ups that allow the homeowners to really see how how a design feature is going to look. It can be difficult to envision how something like window trim or a stair banister is going to turn out if you're just looking at the plans. We keep a supply of materials on hand to do quick mock-ups.
Above: Brown measures the size of a deck on a blueprint.
RM: How do you navigate working with an architect and a client? 
EB: This is another good question to ask a potential contractor. Smaller-scale projects can be handled by the homeowner and the builder. For a bigger remodel or a new construction, the homeowner will hire an architect and once the plans are complete, they'll start to interview contractors. There is a lot that goes on behind the scenes between the contractor and the architect, so I work to have a good relationship with the architect. You can always ask your architect to recommend builders that he or she has worked with and who know how to build houses in the style in question.
Above: A custom bathroom vanity raised in place at floor level and ready for the tiles to be placed underneath.
RM: Things a client should consider ahead of time?
EB: Clients often wonder why they have to commit to so many details ahead of time. Sometimes they want to see the house framed and the drywall installed before they decide on what materials to select, but a lot of decisions need to happen early in the process. For example, we need to know what flooring material they would like because the thickness of the floor should relate to the door thresholds and built-in cabinets, which means the client has to decide what goes on the floor. If the tile is selected early in the process, then we can adjust the framing so that we'll be able to use full tiles and not have odd cuts. This is important in showers and for kitchen backsplashes. And knowing the size of door and window trim means we know how to place light switches and outlets. It's better to spend the time in the beginning than to fix it later. Spending some additional time in the beginning can save money down the road and you'll end up with a much better project.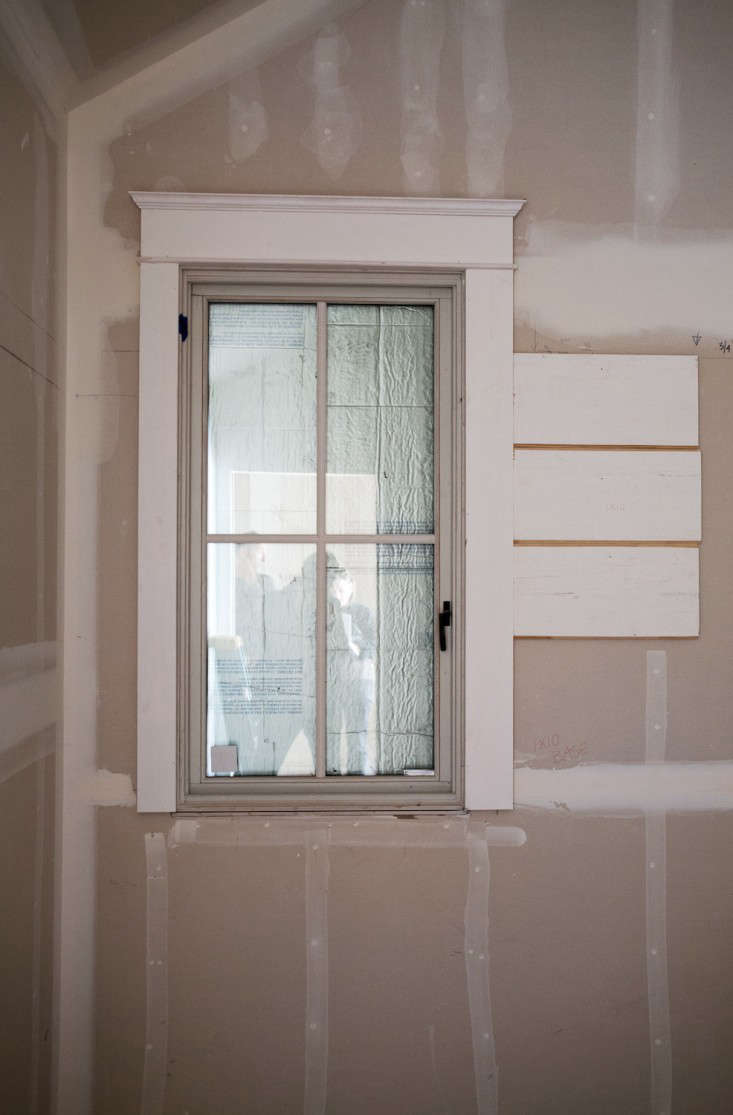 Above: A window trim mockup, which will enable the client to decide the width of the trim and review the wood that will be used on the interior walls. 
RM: Ideal/dream client?
EB: I really like to work with people who are excited about their project. This is their home and it is a very personal space, so I want them to be very involved. I spent many years working as a builder on feature films and TV, so I really like it when a client wants to try something ambitious or creative.
Above: In the Sonoma master bedroom under construction, the placement and size of the bed has already been determined so that outlets can be installed in the right spots on either side of the bed.
RM: Are there certain projects you won't take on?
EB: That's a tough question because many contractors don't have the luxury of turning down jobs. Our industry has had it rough for the last few years. That said, I've turned down a number of jobs because something about the project didn't work for me. Some jobs are too far away and mean I  would spend too much time driving and not be able to give the project the time it deserves. That's a good reason to hire a local builder. I just had to turn down a very interesting new house because the client and architect wanted to use a new building technique that I'm not familiar with, and I didn't feel I could get the project done on time and in budget.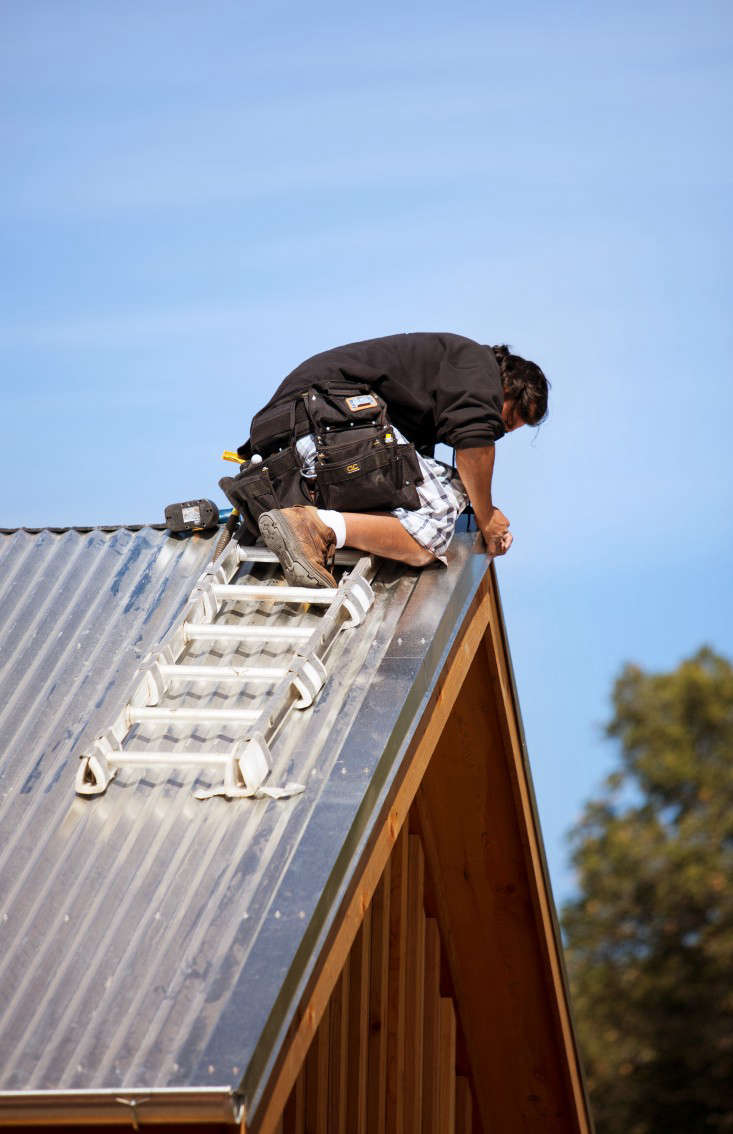 Above: A crew member at work on the galvanized metal roof. 
RM: Do you ever work long distance with a client?
EB: We work long distance with clients often. It does slow down the project a little bit, because there can be a delay in decision making. But in this age of laptops and smart phones, it's become much easier to work together from afar. I love being able to email or text photos right from the job site and have real time interaction with the client. FaceTime is invaluable. 
Above: Brown discusses building details with Jon Curry; the two often collaborate. 
RM: Final thoughts on finding a good contractor?
EB: Definitely aim to find someone through a direct referral or word of mouth. A contractor's reputation is very important, and a reputable builder will work very hard to keep clients happy and not burn bridges. Ask friends or neighbors about who worked on their house, and about the whole experience. You want to find out if the project stayed on budget, if the work was done well, and if the contractor checked in after the job was complete. I don't do any advertising and I am the first to admit that I'm terrible at self promotion; that's why my reputation is so important: I only get jobs through client referral and I also rely heavily on real estate agents, architects, and designers. Yelp or Angie's list can be good resources for doing some additional research after you've found a contractor you're considering hiring. If you're in California, you should also always check with the Contractors State License Board, a site where you can make sure your potential contractor has a valid license that's in good standing and is insured and bonded. [Each state has its own requirements and licensing board.] It can be tempting for a homeowner to hire an unlicensed builder because it might save some money, but hiring a licensed contractor really protects you as a homeowner.
For more advice from experts, check out our posts: 15 Secrets for Saving Money on Home Renovation, 15 Essential Tips for Designing the Kitchen, and 10 Essential Tips for Designing the Bathroom. And on Gardenista, see 10 Mistakes to Avoid when you Remodel.
N.B. Erio Brown is married to clothing designer and doll maker Jess Brown, who we featured in our post The Accidental Dollmaker. 
You need to login or register to view and manage your bookmarks.