When serving a fine wine in a relaxed setting, an elaborate decanter doesn't quite fit the bill. We like the idea of a more casual decanter: a vessel with simple proportions, potentially made of recycled glass, that still manages to aerate the wine within. Here are our 10 selects.
N.B.: Consider pairing a casual decanter with the New Short Wine Glass for indoor or outdoor entertaining.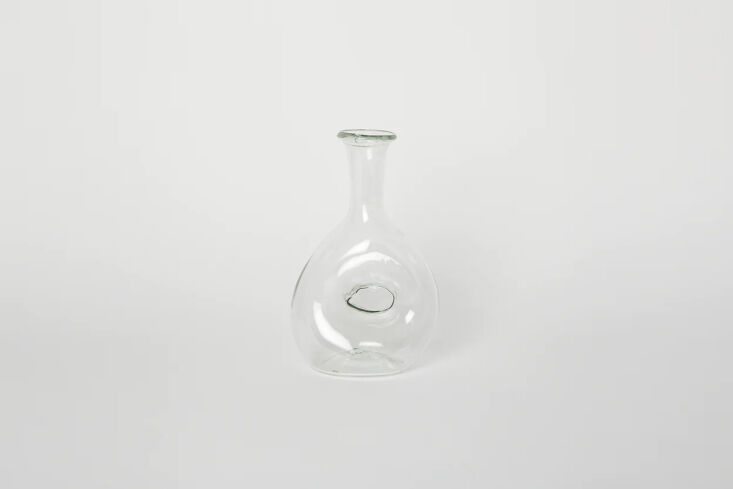 For more of our favorite glassware, see our posts:
(Visited 2,424 times, 1 visits today)
Frequently asked questions
What is a wine decanter?
A wine decanter is a vessel used to serve and aerate wine. It allows the wine to come into contact with oxygen, enhancing its flavors and aromas.
What is the purpose of a decanter?
The purpose of a decanter is to separate the wine from any sediment it may have, while also allowing it to breathe and develop its flavors.
How does decanting wine improve its taste?
Decanting wine helps to soften its tannins, enhance its aromas, and bring out its full flavor profile by allowing it to mix with oxygen.
What is the difference between a wine decanter and a serving carafe?
A wine decanter is specifically designed to aerate and separate wine from sediment, while a serving carafe is a more general vessel used for pouring and serving drinks.
Are all wine decanters made of glass?
No, wine decanters can be made of various materials such as crystal, stainless steel, or even acrylic. However, glass is the most popular choice due to its transparency and ability to showcase the wine.
Do I need to decant every wine?
No, not all wines require decanting. Decanting is generally recommended for older red wines, particularly those with sediment. Younger wines or whites may not benefit as much from decanting.
How long should I let wine decant?
The time required for decanting wine varies depending on the type and age of the wine. In general, younger wines may only need 30 minutes to an hour, while older wines with sediment may require several hours.
Can I use a decanter for other beverages?
Yes, you can use a decanter to serve other beverages such as whiskey, bourbon, or even non-alcoholic drinks. It can help enhance the flavors and presentation of various beverages.
How do I clean a wine decanter?
Cleaning a wine decanter can be a bit tricky due to its shape. It is best to hand wash it with warm water and a soft brush or sponge. Avoid using harsh cleaners or abrasive materials that may scratch the surface.
Are wine decanters dishwasher safe?
While some wine decanters may be labeled as dishwasher safe, it is generally recommended to hand wash them to prevent any potential damage or breakage.