A refined shower curtain hoop made from plumbing pipes? Something that looked both elegant and rustic? It sounds like an impossible feat, but Anthony D'Argenzio, founder of design firm Zio & Sons, has made a career of bringing exacting visions (whether his clients' or his own) to life. For proof, look no further than This Old Hudson, a three-story house built in 1910, that he and his wife, Hillary, turned into an inspired multiuse space; it can be rented as a photo shoot location, event space, or a weekend escape. Since Julie wrote about their upstate NY property last year (see House Call: 50 Shades of Weathered White in Hudson, NY, from Zio & Sons), the couple has added another rental unit to This Old Hudson—and it's here that we spied this ingenious wraparound shower rod that defies its humble origins.
Photography courtesy of Zio & Sons Creative.
Anthony's idea for the brass shower curtain ring was informed by two desires. First, he wanted to locate the showerhead in the middle of the clawfoot tub, as opposed to on one end, to allow more freedom of movement. Second, he was inspired by the industrial, exposed-pipes look of outdoor showers. So he sketched out his design, with utilitarian plumbing pipes playing the starring role, then partnered with a trusted plumber to piece it together.
Anthony has a couple of tips for anyone attempting to pull off a similar design. "Work with a professional who knows what he's doing." It took a lot of on-site jiggering and rejiggering to get it right. "And choose unlacquered brass for perfect patina."
Here's what you'll need for the project.
1. Unlacquered Brass Pipes
"We used three-quarter-inch-thick brass tubing in unfinished brass. It comes in all different sizes. Literally, every town has a local plumbing store, so you shouldn't have a hard time locating this," says Anthony.
2. Vintage Valve Handles and Faucet
Use vintage fittings if you can. Anthony's plumber, conveniently, had vintage valve handles lying around, so Anthony just selected the ones he liked most for the project. As for the faucet, he found it by searching for vintage garden spigots on eBay.
3. A Polished Brass Shower Head
While all the other parts are unfinished brass, Anthony chose a simple polished brass showerhead for a little contrast.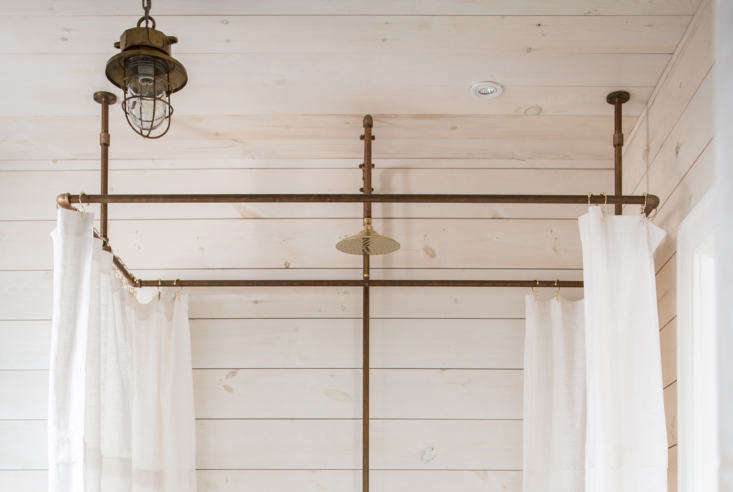 Searching for more bath inspiration? See:
(Visited 1,769 times, 12 visits today)