British-born, LA-based designer Jane Hallworth is fabulously droll and witty, rigorously versed in the world of architecture and design, and completely tight-lipped when it comes to talking about her well-heeled Hollywood clients (rumor has it that Ellen Degeneres and Kristen Dunst are on her roster.)
If only my father had known of her future success, he may not have worried so much. You see, in one of those small-world coincidences, Jane (who I recently met for the first time through work) was an architecture student of my father's when she was at Newcastle University. My father was a champion of those not achieving their full potential, and Jane was part of that flock. (He once referred to her as a "dilettante," something she had taken as a compliment at the time, the true meaning only sinking in later.) What my father was oblivious to, however, was the fact that as a student, Jane was already running a business of sorts: She and a student friend tag-teamed, trading lecture attendance with shopping at an auction house, where the pair bought antique jewelry boxes, gentlemen's ephemera, and the like. After spiffing up these goods and hauling them to the States in a suitcase, Jane sold them to the likes of Ralph Lauren, effectively funding her whole education. And so Jane had actually already launched her career. 
Recently I paid a visit to Hallworth at her small gallery-cum-office tucked down a side alley away from the large vitrined showrooms on LA's La Cienega. Both moody and refined, romantic and a touch Gothic, Jane's operation central is deeply layered with period furnishings and finds rich with secret histories. She shared with us a few ideas on how we, too, can add a dash of dastardly to our own homes. 
Photography by Jessica Commingore for Remodelista.
Above: Hallworth's showroom is set up as a seductively lit, out-of-time hideaway. (She avows that the look is a tad less edited than in her clients' homes.)
Use a lot of dim lighting. "I recommend excessive lighting from multiple sources, but with low-ambient light. I like to cross reference ages. If you just do all modern lighting, it's hard, but mix Italian 1940s with some turn-of-the-century Arts and Crafts, and then add something else, and you have layers, scale, and history that creates a moodiness."
Above: A bronze lantern festooned with moths, a collaboration between Hallworth and artist Leslie Yagar. Hallworth's line of lighting and decorative objects is available from Blackman Cruz. 
Above: Hallworth says she favors "muddy colors and earth tones like tobacco and ink, and absolutes as in black and white. I am a little obsessed with spectrum over color."
Manipulate color to convey a feeling. "My own space is dark and saturated and moody, but I have just done a house for a client that's all white and light. Everything from the upholstery to the lacquered floor is white except for a classic Chesterfield and a few dark, edgy leather pieces. In the day the tone is quite sweet, but at night it's very moody and sinister…a little dastardly." 
Above: A woven camel hair window panel with an embroidered bird.
Above: Tables and shelves are layered with curiosities. What looks like a small dagger is a Victorian silver letter opener with an agate handle.
Above: A vintage leather wingback chair and ottoman by Swedish designer Carl Malmsten sits on a faded carpet.
Introduce textiles to create texture and back story. "I am a textile junkie and, if you ask me, there is nothing better than a faded, threadbare carpet. It's the ghost of a carpet, something you would see in a British stately home."
Above: Pillows by Daniel Pontius are layered on a chair made by Swedish architect Kerstin Horlin Holmquist. Hallworth explains, "I seek out really interesting textile artists. Daniel Pontius does amazing embroidery. He takes fragments of material and augments them with stitching. It's a very textured approach. He also does embroidered pillows with sly, witty sayings. A lot of them are quotes from British snuff boxes, very camp and dark."
Combine textures. "I love layer upon layer of textiles, especially interesting textiles that have been labored and worked upon. It's the idea of craft. It's a Gothic sensibility, a time and place where the wife was at home creating craft-based art."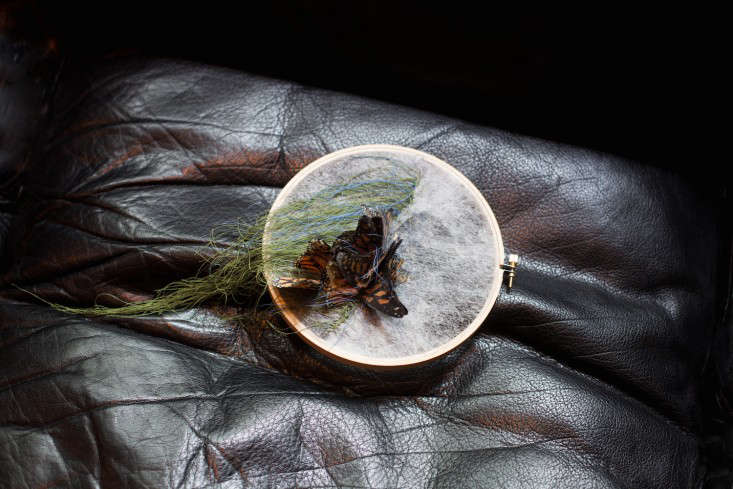 Above: A handworked piece by artist Leslie Yagar of Huntington Beach, California.
Above: Natural materials, such as this bird's nest and branch, are mixed in with a display of objects.
Above: A mobile hung with dark dried pods is by botanical artist Kevin Inkwich, who Hallworth explains, "weaves floral elements into his work and makes these amazing mobiles that have a kinetic sensibility yet are organic. It's very Day of the Triffids."
Above: A small lamp inside a bookcase illuminates a painting. 
Above: The unorthodox mix includes a 1989 Swedish Mats Theselius Fatolj Chair in polished aluminum and black leather. "I don't need to edit here. It's contemplative; if it were light and bright, I would daydream," Jane says. "In my showroom I surround myself with things that even if they don't sell make me incredibly happy. I am my biggest client."
For more of our finds in Hallworth's La Cienega Design Quarter neighborhood, see:
Consult our LA City Guide for recommended hotels, restaurants, and more.
You need to login or register to view and manage your bookmarks.