Designer and event planner David Stark takes over Haus Interiors in Nolita with a limited-edition line of products.
We stopped by the grand opening a couple of days ago to chat with Stark and interior designer Nina Freudenberger of Haus Interior and to learn about their collaboration (they met at a RISD alumni event not long ago and developed an instant rapport). They decided to collaborate on Wood Shop: an installation of products inspired by Stark's own crafts shop in Brooklyn, featuring hand-turned vases, decorative objects, table linens, whimsical Valentines, printed pillows, and clocks. The offerings are available at Haus Interiors on Elizabeth Street (as well as online) through the month of February. "Retail is like a party," said Stark. If it's good, as in this case, you don't want to miss it.
Photography by Sarah Sobel.
Above: The transformed storefront of Haus Interiors.
Above: Turned Wood Poplar Vases were crafted in a Brooklyn woodworking studio; they have holes fitted with glass test tubes so they truly function as vases; $100 to $170, depending on size.
Above: Vintage Washed Linen Napkins with contrast topstitching; $60 for a set of four.
Above: Shop Placemat, inspired by carpenter's work pants ($25), shown with Vintage Washed Linen Napkin with red topstitching.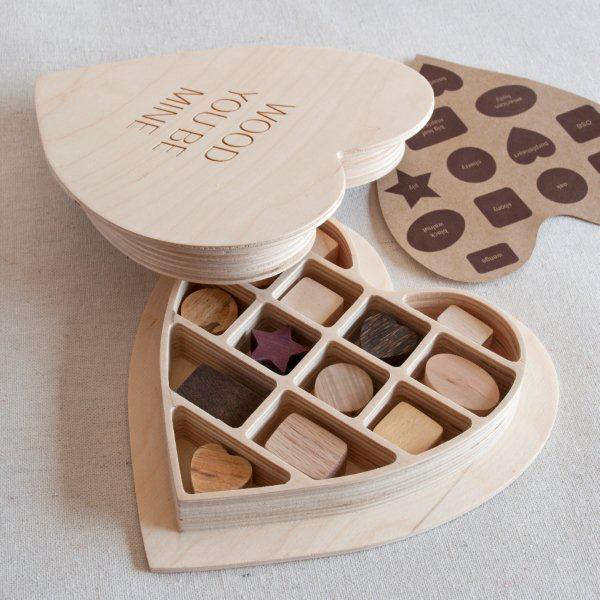 Above: For wood lovers: a take on the classic Valentine's chocolate sampler. Each "chocolate" is a different type of wood and the enclosed heart-shaped page identifies wood types; $125.
Above: The Smartply Cake ($150), paired with a Stripe Denim Placemat ($25), makes a tantalizing display.
You need to login or register to view and manage your bookmarks.