Santiago, Chile, entrepreneur Fran Aldea studied design and worked for three years at different retail stores in the home decor department. "I was frustrated and unhappy," she says. "I wanted to understand and get involved in each step that goes into developing a handcrafted product, so I quit my job and started searching for talented local craftsmen I could work with. It didn't take me long to realize that retail companies have destroyed almost all of our domestic manufacturing. Today, just about everything we consume in our country is mass-produced overseas." 
"With Minka Inhouse, I wanted to buy raw materials, pay fair wages to the craftsmen, and bring back hope to our local industry by creating jobs for amazing and talented people," she says. To get going, Aldea raised $22,000 on Kickstarter and launched a small collection of ceramics (as well as wool blankets and throws) in July. 
Above: The Gold Rim Mug Set is available in three sizes (small, medium, and large); $35 for a pair in any size at Minka Inhouse on Etsy.
Above: The mugs were inspired by classic enamelware and feature hand-painted gold rims.
Above, L to R: The Ceramic Vase 1 is $50, the Round Ceramic Bowl with Lid is $50, and the Ceramic Vase II is $50.
Above: Aldea's ceramic vases (right) are inspired by old-fashioned cut-crystal.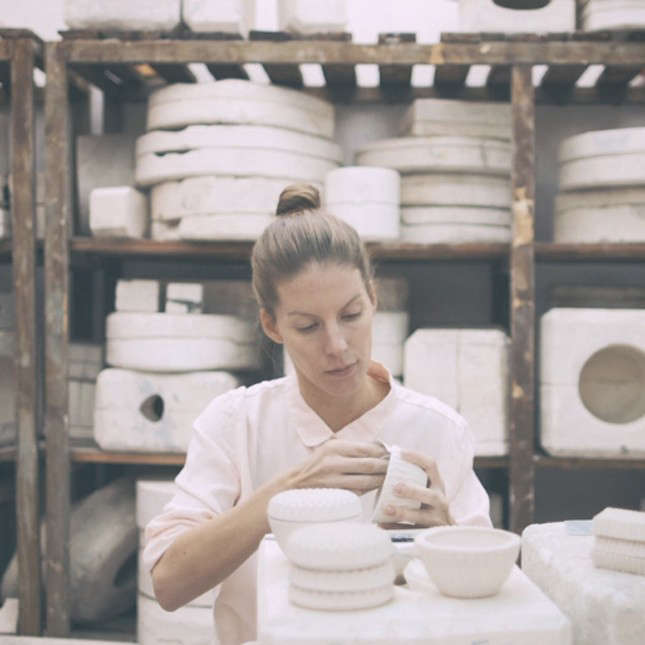 Above: Fran Aldea at work in her studio. "Minka is a native word used to describe a collective work with a social purpose and benefit for the community," she says. See more at Minka Inhouse.
We think there's a cut-crystal renaissance going on; have a look at Trend Alert: Your Grandmother's Cut Crystal Makes a Comeback.
(Visited 92 times, 1 visits today)