We first spotted the work of British designer Andrew Trotter in 2016, when we stumbled upon his newly completed Masseria Moreseta in Puglia (see A Modern Masseria in Puglia with Traditional Influences), and found ourselves obsessed (Alexa even paid a visit).
As Andrew says, "Simplicity is at the heart of my ideas as well as a true belief that any design should belong to the place where it is built." His latest project, Casolare Scarani in Carovigno, Puglia, "has quite a sweet story," he says. "Many years ago, a friend in Barcelona had the idea to move to Puglia. She showed me a few houses online to see what I thought about them. Maybe a year or so later, we passed a house while driving towards Carovigno, and I realized that it was one of the houses she had shown me. The house was beautiful, old, with so much character, and not too big. In the countryside you usually find small lamias, which are stone sheds for the local landowners to store equipment; or very large masserias, where the affluent landowners would have once lived. It was quite unusual to come across a building that had the style of a masseria, but the size of a small villa.
"At the time we were thinking about other projects, and we decided not to purchase it for ourselves, so when our friends and clients, the Coleman family, started to search for a house, we immediately showed them this one. Actually, we showed it to Ian, as Maree was in Australia at the time. A month later, Covid hit, but from the photos, Ian persuaded Maree, and they bought it without her seeing it. It would be more than a year later, when we had already started to renovate the property, that Maree saw the house for the first time. Luckily she fell in love with it, as we knew she would. Nine months later, Casolare Scarani was finished."
Join us for a tour:
Photography by Salva Lopez, courtesy of Andrew Trotter Studio.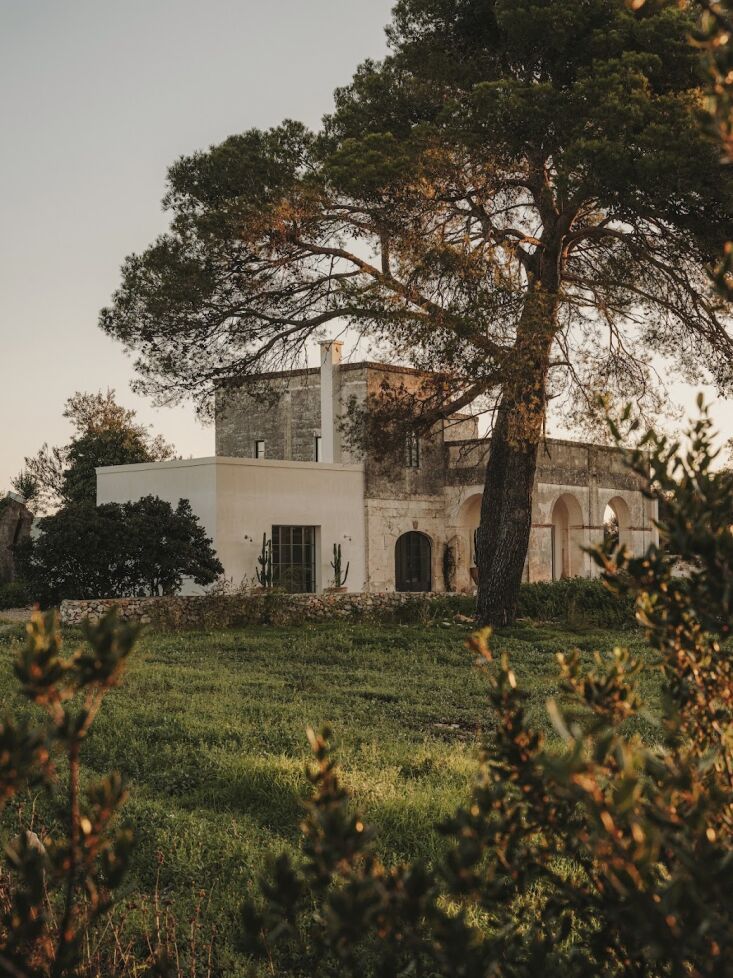 For more projects, see:
N.B.: This story is an update; the original post ran on February 24, 2023, and has been updated.
(Visited 8,724 times, 7 visits today)
Frequently asked questions
What is Casolare Scarani Masseria?
Casolare Scarani Masseria is a traditional farmhouse located in Puglia, Italy. It was renovated and transformed into a stunning holiday retreat by renowned architect Andrew Trotter.
Where is Casolare Scarani Masseria located?
Casolare Scarani Masseria is located in the region of Puglia, which is in the southern part of Italy.
Who renovated Casolare Scarani Masseria?
Casolare Scarani Masseria was renovated by architect Andrew Trotter, who is known for his minimalist and contemporary approach to design.
What is the design style of Casolare Scarani Masseria?
Casolare Scarani Masseria combines traditional elements with modern design. It features a minimalist and contemporary style, with a focus on simplicity and natural materials.
What are the key features of Casolare Scarani Masseria?
Some of the key features of Casolare Scarani Masseria include spacious open-plan living areas, a private swimming pool, a rooftop terrace, and a beautiful outdoor garden.
Can Casolare Scarani Masseria be rented for vacations?
Yes, Casolare Scarani Masseria can be rented as a vacation retreat. It offers a luxurious and tranquil setting for those seeking a unique and peaceful getaway.
Are there nearby attractions to Casolare Scarani Masseria?
Yes, there are several attractions near Casolare Scarani Masseria. Puglia is known for its beautiful beaches, charming towns, and delicious cuisine. Guests can explore the nearby countryside, visit historic sites, or simply relax and enjoy the peaceful surroundings.
How can I book a stay at Casolare Scarani Masseria?
To book a stay at Casolare Scarani Masseria, you can visit the official website of the property or contact the designated booking agent. Availability and reservations can be made online or through their customer service.
Is Casolare Scarani Masseria pet-friendly?
Unfortunately, Casolare Scarani Masseria does not allow pets. Guests will need to make alternative arrangements for their furry friends.