Here's an ingenious storage solution for renters, the space-challenged, and anyone leery of damaging their walls: vertical shelving that hangs from picture railings. No wall-mounted hardware or floor space required–but, yes, you do need picture railings.
Above: Carlysle Manufacturing Company's vertical storage clothing racks and shelves were designed out of necessity when founder John Carlysle Pemberton was in need of storage for his small San Francisco apartment. He came up with the idea of using picture rails as an anchor for hanging shelving and clothes hook systems that can be installed (and removed) in minutes.
Above: Installation is easy. The top hooks of the steel support rods fit into picture railings. The support rods come in varying lengths ranging from 30 to 55 inches to accommodate different railing (and user) heights. Each shelf comes with an allen wrench and level to adjust the brackets. See Carlysle Manufacturing Co.'s Installation FAQs for more details. 
Above: All Carlysle Manufacturing Co.'s products are designed, manufactured, and tested in San Francisco. Different sizes and configurations are available. The Carlysle Coat Rack with Shelf features four large hooks and a 27-inch solid wood shelf made of walnut (as shown) or cherry; $325.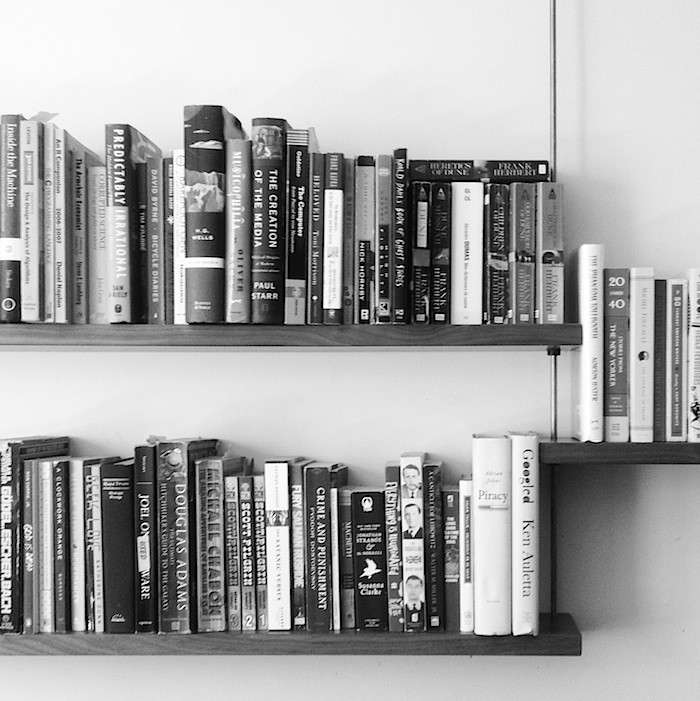 Above: Just how strong are picture rails? Weight-bearing strength is dependent on individual railings, but Carlysle recommends keeping the weight limit at or under 15 pounds per support rod, so a standard two-rod shelf can hold up to 30 pounds. See Carlysle Manufacturing Co.'s Installation FAQs for more details. 
Above: The shelving units can be combined so you can start small and add on. The Carlysle Single Shelf with a walnut (shown) or cherry shelf is available in three different shelf lengths; $275. 
For more ideas, see our Shelving and Storage posts, including 10 Easy Pieces: Wall-Mounted Shelving Systems.
(Visited 1,052 times, 5 visits today)