Recently spotted: a Scottish bakery in an unlikely place—Berlin's central Mitte district (and just around the corner from Dottír, another Remodelista favorite). Expat founder Ruth Barry was working in the world of contemporary art—at the Guggenheim in New York City and with a prints publisher in London—when she switched gears and took on an apprenticeship at Du Pain et des Idées, the famous Paris institution, to learn the art of baking. She opened the original Black Isle Bakery, named for the peninsula in the Scottish Highlands where she grew up, as a catering business in London, baking for high-end galleries and clients, before another change of gear brought her to Germany. Barry packed up the bakery and brought it with her, opening the Berlin iteration of Black Isle Bakery to the public in September 2017.
The space—by Berlin-based architecture studio Atheorem and London based OK-RM for the art direction—feels, fittingly, like a gallery: "I live in the street behind the bakery and would often walk my dog past the space," Barry says. "At the time it was the showroom for an independent fashion designer, but I so often thought it would make a lovely cafe. It's on the sunny side of the street so the natural light is absolutely beautiful." Post-renovation, it is a bright and clean-lined space for a morning pastry. Here's a look inside.
Photography by Robbie Lawrence, courtesy of Black Isle Bakery, except where noted.
In keeping with the idea of a gallery space, the team removed the existing faux-wood paneling and dark wood floor and opted instead for a muted gray polyurethane floor and walls in washable white paint. A wall of windows at the front brings in plenty of light.
"Much of Bernd's production is for contemporary artists, so his attention to detail is next-level," Barry says. "We are not polishing the surfaces of these metals, instead we are allowing them to patina naturally, rather like constantly evolving drawings."
Hanging above the lettering is a framed print of one of the images that fashion photographer Lena C. Emery shot for the website.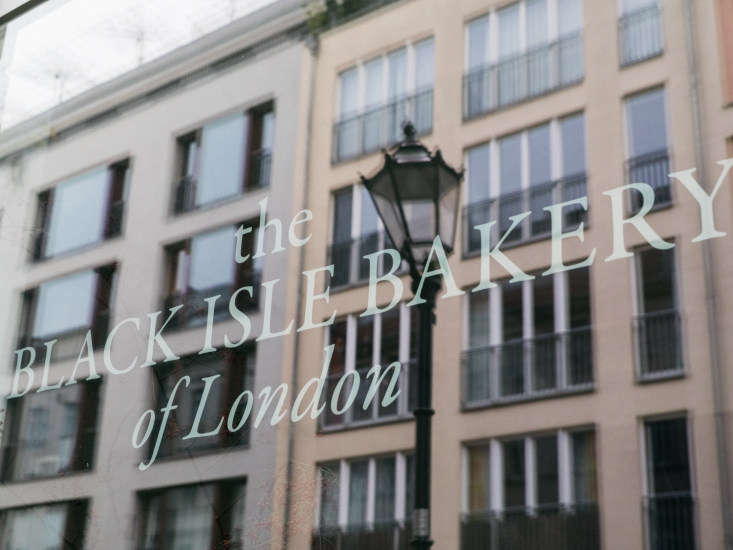 Before
For more particularly artful bakeries around the world, see: