Remember when Dyptique were the only fragrant candles around–or, at least, the only ones worth lighting? We attribute the current proliferation of scented candles to a primal combination of fire and fragrance that seems to have struck a note in all of us. Here's a round up of 10 that are small-batch produced and perfect as holiday presents.
Above: Le Feu De L'Eau in Profound Rose, a tuberose-scented soy candle set in wax that's sculpted under water; $60 from Le Feu de L'Eau.
N.B. LA shoppers can purchase Le Feu de L' Eau candles at our upcoming Remodelista Holiday Market in LA this Saturday, December 7, at Big Daddy's Antiques. For more on Le Feu de L'Eau, see our post: Fire and Ice, Handmade Candles from LA.
Above: Lite+Cycle's Bergamot Pillar Candle is made from 100 percent vegetable wax and Italian bergamot oil; it will burn for 85 hours; $68 from Lite+Cycle.
Above: LA designer Kelly Lamb's Mischief Candle, the latest addition to her Ever Collection, is made in her faceted ceramic bud vases. Lamb uses 100-percent natural cosmetic grade coconut wax that can also be worn as a solid perfume balm. She describes the scent as "androgynous with hints of leather, smoke, violet, and musk"; $80 from Kelly Lamb.
Above: Tom Dixon's Eclectic Candle comes in a copper vessel topped with a marble lid that becomes the candle base. It's available in three scents: London, shown here, evokes "the smell of red brick, London parks with crocuses and nettles, and the salty smell of the Thames at Dagenham"; $80 from Garde in LA.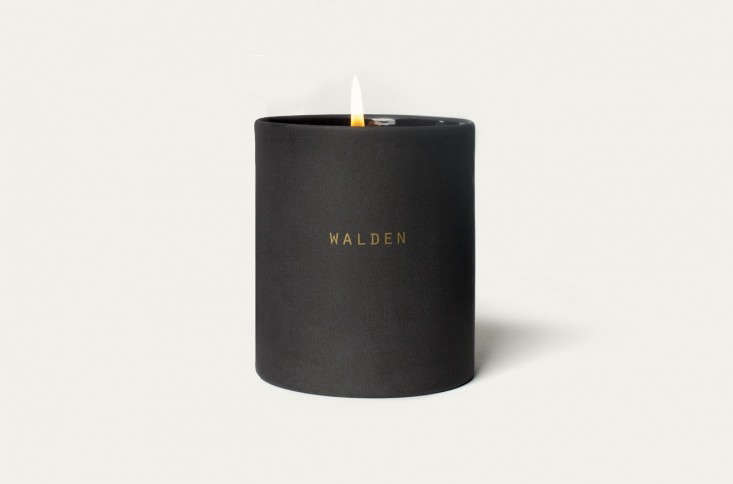 Above: The Henry David Thoreau-inspired Walden Utopia Candle has a scent of wild berries with citrus, geranium, cassis, amber, and sandalwood, and is housed in a ceramic pot; £35 from The School of Life in London. The line also includes Le Corbusier's City of Tomorrow and Plato's The Republic candles.
Above: The 5 Elements Soy Candle comes in five different scents, each named after an element and packaged with a Zen poem. Fire, shown here, is redolent of ginger, rose, and quince; $32 from Anzu.
Above: Made by French fashion house A.P.C., the Bougie No. 1 Cologne Candle is a floral-scented classic; $45 from Steven Alan.
Above: Named after a French botanist, the Maison Louis Marie Candle No 09 is a combination of woodsy and citrus fragrance, with notes of vetiver, geranium, and musk; $35 from Spartan.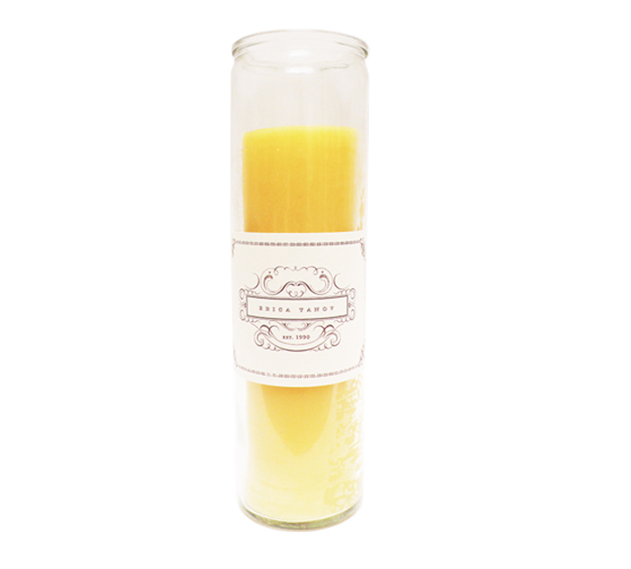 Above: Erica Tanov's El Candle uses essential oils and beeswax from the Northwest Coast; its lavender fragrance has become the signature scent of Erica Tanov stores; $36.
Above: Made in Chicago by Tatine, the St John's Wood Candle is a blend of soy wax and beeswax with notes of "smoldering chimney smoke, dried vines and brick walls"; $18 from Jayson Home. 
Above: These Virginia-made Double Wick Soy Candles are hand poured in amber glasses and come in three scents: Lemon & Olive Blossom, Bluegrass & Juniper, and Cucumber & Mint; $28 each from Kaufmann Mercantile.
Looking for unscented candles? See 5 Favorites: Moody Black Candles. Also don't miss Modern Menorahs for Hanukkah (and More).












(Visited 131 times, 1 visits today)