We're admiring the current crop of menorahs that are not only modern in form but also add a note of glamour. In time for the upcoming Hanukkah holiday, here are five favorites.
Above: From San Francisco kitchen emporium March, the March Brass Menorah consists of nine individual candle holders and a matching tray made from silver-plated polished brass, $2,500. The design is also available in patinated steel for $2,000 and silver $3,200.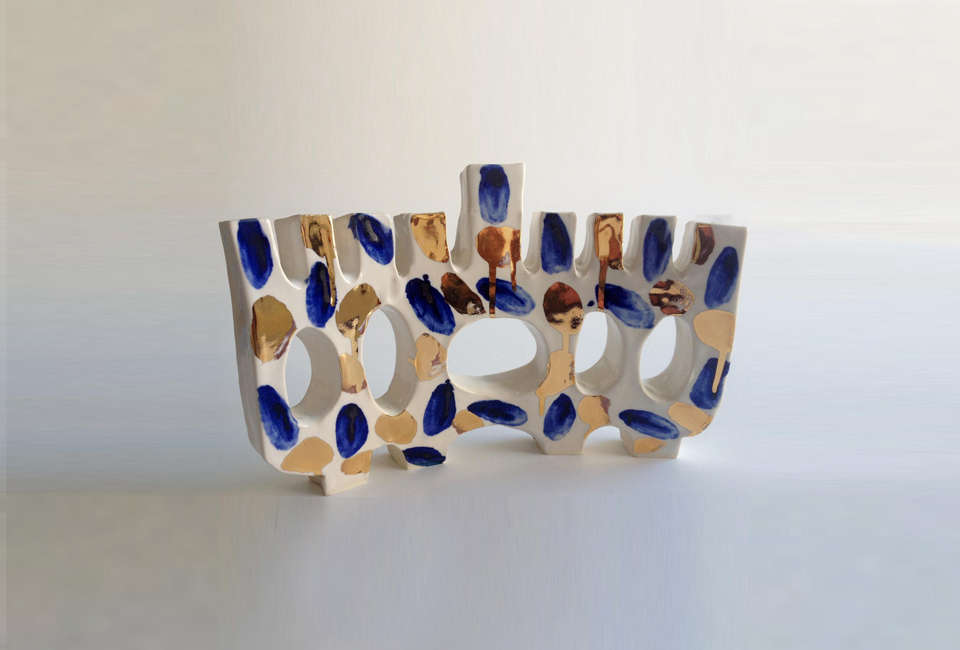 Above: From Brooklyn and Hudson-based ceramicist Paula Greif, the Ceramic Menorah is hand-built and hand-painted with cobalt and gold luster. It measures 10 inches wide and seven inches tall and is available directly through Paula Greif. For more on Paula, see our post The Handmade Kitchen: Paula Greif in Brooklyn.
Above: The Ascalon Menorah with Candles is made from solid Carrara marble and has eight candleholders to correspond with the eight days of Hanukkah and one shamash (the candle used to light the others) on a different level. Left and right diagonals in the design create an 18-degree angle, which designer Brad Ascalon points out references the fact that in Judaism, the number 18 symbolizes chai or life. Available from Design Within Reach, it's $285 and includes 45 hand-dipped, six-inch white candles.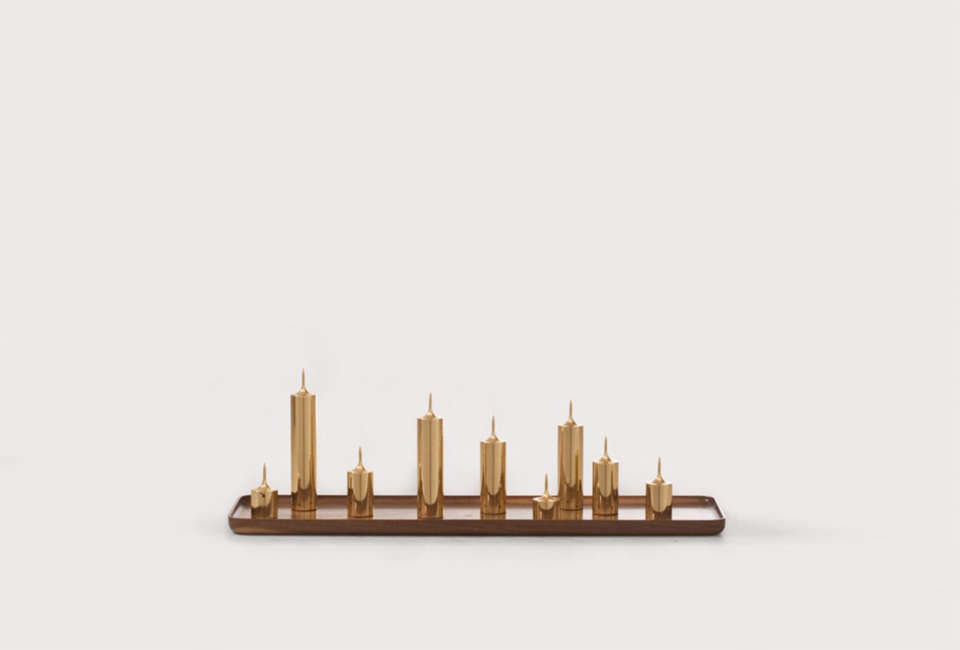 Above: The Nick and the Candlestick by Lindsey Adelman was inspired by antique brass weights and named after a Sylvia Plath poem. It has nine brass holders at varying heights that rest on a walnut tray; candles are inserted onto spikes, so they appear to float. Contact Lindsey Adelman for more information.
Above: From Vermont Lifestyle, the Vermont White Marble & Wood Menorah; $65 at Food52.
Above: The Walnut and Bronze Menorah from architects Marmol Radziner is handmade in Los Angeles $140 at Heath Ceramics.
N.B.: This post is an update; the original story ran on November 30, 2015.
(Visited 29 times, 1 visits today)