When our friend photographer Aya Brackett and her family moved into a house just across a shared courtyard from their former place in Oakland, California, they gained more space. But they found themselves missing one detail in particular: the handmade tile floor in their bathroom, an existing feature that had sold them on the house in the first place. Fortunately, they knew how to track down its creator, Sarah Myers—and understood it was a project worth the time, effort (overall bathroom touch-up included), and expense, to do right.
And so Myers was summoned and the many-months project got under way. A West Marin, California, artist and art teacher who grew up in Northern England—and has a masters in painting and drawing from Ohio State—Myers specializes in the ancient art of mosaic. And that involves cutting each tiny glass tile by hand. Here's a look at the room's various stages of transformation.
Photography by Aya Brackett.
After
Brackett told us, she and her husband had been so taken by all the color options Myers showed them that they had initially picked a trio: white, blue, and gray. Myers then made a sample maquette, and seeing that—and all the nuances in each color—made them decide to whittle their choice down to white.
After considering custom sink vanity options, Brackett decided to simplify matters by buying Restoration Hardware's Marten's Single Vanity, which came with a Carrara marble counter (the exact model is no longer available, but the Martens Single Extra-Wide Vanity Base could be fitted with a marble countertop). It's fitted with a sink from Kohler's Purist line, and there's also a new Kohler toilet (added after the mosaic was installed for a clean look).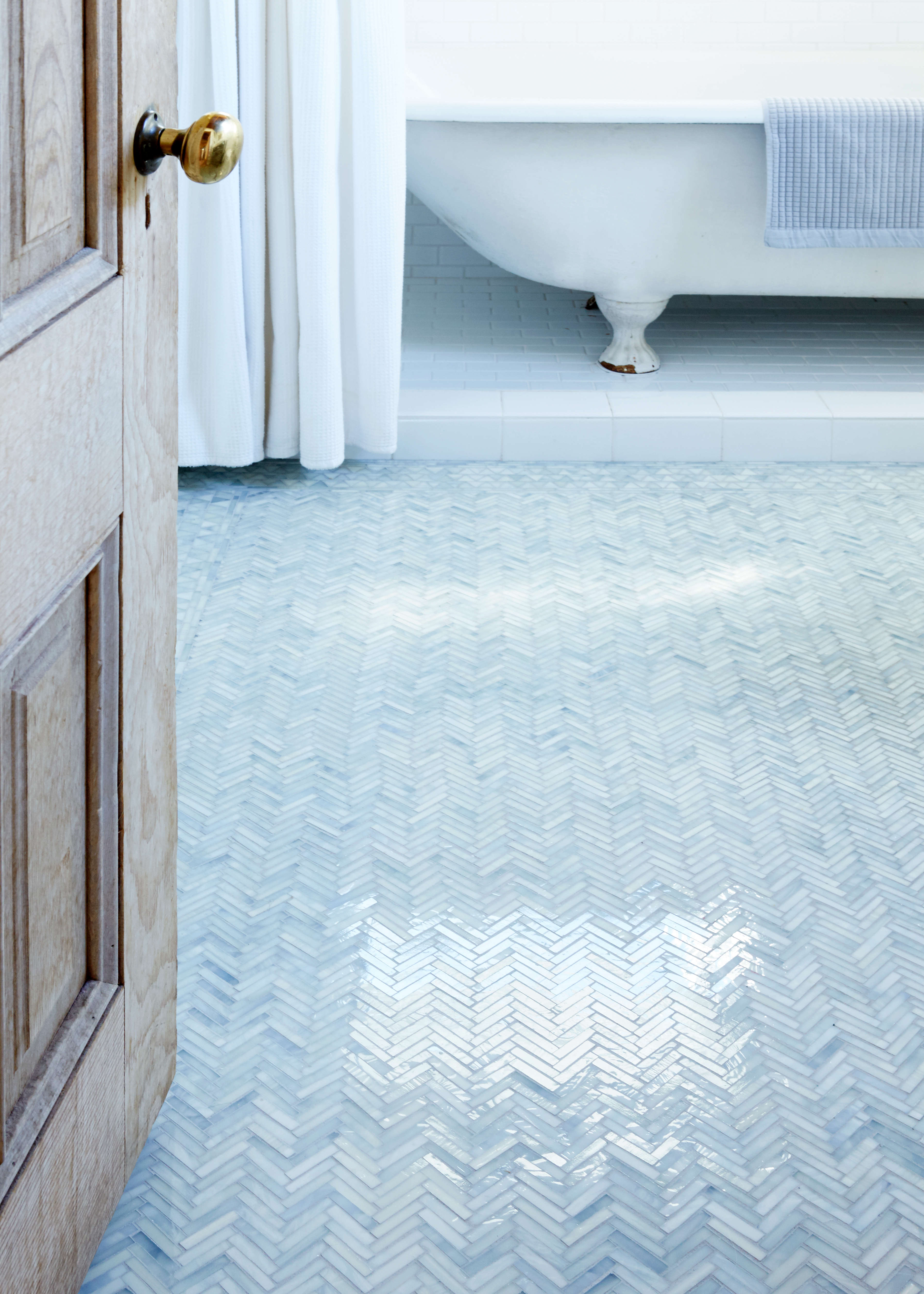 Before Myers could get to work, the remodeling crew's crucial final step was the laying of a three-quarters-inch mortar bed of self-leveling poured concrete. "It had to be as even and as perfect as possible," says Brackett. "On the floor, where it gets walked on, if there's any tiny pebble, it can decrease the strength of the glass," explains Myers. After it was fully dry, Myers made detailed measurements of the floor, which she took back to her studio to create a template and do the tiling.
The Process