Sometimes, a few select moves are all you need to completely transform a space–that's the easy bit. The hard part is knowing which moves, and that's where a designer's skill comes into play as evidenced by the key moves San Francisco-based Lisa Collins from Studio One|San Francisco Interiors & Design used to turn a standard 1,100-square-foot 1950s California post and beam house into a Modern Barn.
Although Collins, founder of Studio One|San Francisco Interiors & Design and a member of the Remodelista Architect/Designer Directory, has over twenty years of design experience in graphics, stage sets, and products, she only went back to school to get her degree in interior design and architecture after remodeling her own home. The client of this Marin County house had admired Collins' own modern and minimalist renovation and came to Collins seeking a more rustic version. From this brief, Collins evolved the concept of the Modern Barn. "As a design junkie, I love aspects of many styles and work eclectically fusing the modern, industrial, natural, and classic," she says. "And I prefer to make bold, simple statements–not a lot of clutter. To me, it's in the materials and the details where the exciting things happen."
Photography by Mark Adams.
Above: Collins removed a partial wall that divided the kitchen from the rest of the room in order to create a great room with kitchen, living room, and dining room combined into one. With windows all around, the room can now take full advantage of the surrounding views. "I wanted this area to be the 'outside' of the farmhouse and lined it with horizontal sliding to represent the exterior of a farmhouse, complete with outdoor barn lighting," Collins says. "The second purpose of the siding was to add interesting architectural details to an otherwise very plain room."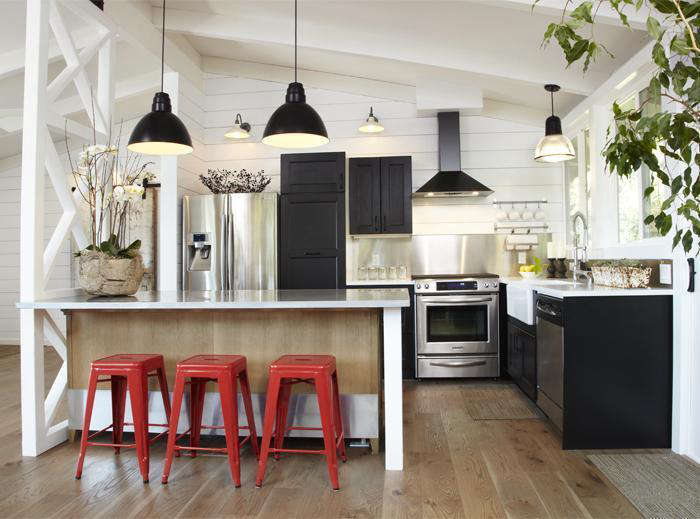 Above: The designer introduced light and contrast into the home with white 'farmhouse' siding, introducing an industrial aesthetic with black kitchen cabinets. "When it came time to purchase the stools for the island, my initial instinct was to go for black," she says. "Ultimately I went for red, which is an iconic barn or farmhouse color–a little dash of color for fun."
Above: Collins created a design opportunity out of an awkwardly located structural post which had been in the partial wall she removed. "Once the wall was removed, the post seemed to be standing in the middle of nowhere," Collins says. "I decided to create an architectural detail around it. Not only is it now more structurally supportive, it also introduces a farmhouse vernacular, which reinforces the Modern Barn."
Above: The kitchen cabinets are from Ikea. The designer and the client agreed that with young children and dogs, the doors could be easily and inexpensively replaced when required.
Above L: For a more eclectic aesthetic, Collins made the kitchen island out of a piece of furniture rather than match the cabinets and ordered a custom-made zinc top. "I love using zinc, especially with this design, because it feels more rustic and weathers to a great worn patina," she says. "The more you use and abuse it, the better it looks. It's a great material for spaces that need a little more warmth but want that industrial feel." Above R: The glass pendant lamp over the sinks acts as a feature light.
Above: The countertops are a Caesarstone product from Ikea, while the farmhouse sink is from Home Depot.
Above: The small house has a linen closet right behind the hallway door, which leads to the private spaces of the house. When the original hallway door was open, access to the linen closet was difficult, so the owners removed the door altogether, leaving a gaping hole in a visually critical location of the great room. Collins solved the problem with a sliding barn door; enabling the hallway to be closed off when needed without a door swing.
Above: Collins is a big proponent of barn door hardware. " Although very trendy right now, it has been around forever and is a good alternative for tricky spaces where a swinging door does not work," she says. "It's also helpful when an interesting design detail is needed. The hardware is easily customizable, and there are quite a few styles, from uber-modern to traditional farm style." 
Above: In keeping with a bold industrial feel, Collins had a black steel plate made for the upper beam and painted it black to match the hardware. "In this project, I wanted classic barn hardware," she says. "I went back and forth on whether to use raw steel or finish it in black. In the end, I went with black because I wanted that crisp contrast of the black on white."
Above: Collins used owl holes near the top of roof pitches in barns as her inspiration for this vent cover. "We couldn't move the vent, and it drove me crazy each time I walked in the front door," she says. "I love this detail because it solves a problem and adds another detail to the look of the Modern Barn at the same time."
Above: Collins used a high gloss white paint on the horizontal paneling to create a modern look, juxtaposed with the old barn door she found in her favorite salvage yard. "We did have to cut it down slightly, but it could not have been more perfect for the space as it had the perfect weathered white patina to contrast off the shiny white paneling," she says. "It even had that little hole cut in it so we didn't even need a handle."
Above: The Great Room of the house looking down the doorless hallway of the blank entry wall.
Above: "This became such an opportunity to do something really fun and make it important," Collins says. "The Great Room is such a significant space in the home, and it really deserved to be designed that way."
Obsessed with sliding barn doors? Join the club; and see 666 images of Sliding Barn Doors in our Gallery or rooms and spaces.
You need to login or register to view and manage your bookmarks.