We first discovered Matt Bear of Union Studio through his custom handcrafted steelwork for March in San Francisco several years ago and have been quietly following him since. Although the under-the-radar Berkeley-based designer is noted for his meticulously crafted furnishings and design, he originally studied architecture, and over the years he has been led back to the discipline by clients taken with his handcrafted work.
Case in point: Todd Holcomb and Keith Yamashita, a dynamic creative couple, have enlisted Matt's services over the years on several projects, including the refurbishment of the former Mill Valley, California, library into an industrial loft-style residence. Not long ago, when the couple decamped to New York for work, they called on Matt to help them renovate a 1903 loft in NoHo for themselves and their two daughters.
"Matt always produces living experiences that bring joy to our everyday life," Todd says. "He understands who we are, what makes us thrive, and easily crosses the divide between architect and master craftsman, something we've found to be unique and very valuable." When asked how it is to work with clients who have a deep understanding and appreciation of design, Matt notes, "I sometimes find that I'm the conservative one, and that they want to take the adventurous path, which is a rare gift from a client." Here's their latest collaboration.
Photography by Union Studio.
Above: The space was designed so the public areas were open and communal with bedroom quarters at either end. The rift and quartered white oak floor is finished with an oxidized Rubio Monocoat oil (a LEED-accredited finish).
Above: The dining area has custom shelving in blackened steel and white oak designed by Union Studio. A large slab of Carrara marble sits atop a cast iron table base (sourced from Olde Good Things) and provides enough room for big meals as well as space for homework and business meetings. A row of Italian vintage lighting from Obsolete hangs above.
Above: The corner loft is long and narrow, with 18 windows wrapping around the sides of the building. The living area has a low-to-the-ground leather Togo sectional sofa from Ligne Roset.
Above: The white oak and blackened steel island that anchors the kitchen area is a Matt Bear design for March.
Above: The custom hood and pot rack are designed by Union Studio.
Above: Keystone Hand-Clipped Mosaic marble from Waterworks is used for the backsplash with white marble facet tile on the wall above. The Metro Swivel black sconces are from Urban Electric Co.
Above: Two large black vintage industrial sconces from Olde Good Things hang above the kitchen island, with cookbooks on display at the end.
Above: A wall of hexagonal Frozen Garden tiles by Marcel Wanders serves as a headboard in the master bedroom with lights from Atelier de Troupe.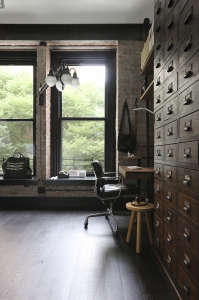 Above: An office area in the bedroom. Todd explains: "The appreciation of craft, human-centered design, and simplicity run long in our work and in our leisure. The New York loft is a reflection of this sensibility. It has the unique fingerprint of our family's love of modern functionality, coupled with the warmth and character of pieces created with the care and love of the human hand and found objects whose stories we connect with, all set in an age-old factory building with a long history."
Above: The master bathroom with a custom teak soaking tub with spout.
Above: The bathroom fixtures are from the RW Atlas collection from Waterworks.
Above: The custom shelves and dressers are blackened steel and teak designed by Union Studio. Andy Fleishman Hexagon Tile from Anne Sacks was used to cover the floor.
(Visited 426 times, 3 visits today)
Frequently asked questions
What is the Great Jones Loft?
The Great Jones Loft is a stunning architectural project by Union Studio and Matt Bear located in New York.
What is the style of architecture used in the Great Jones Loft?
The Great Jones Loft features a modern, minimalist style of architecture with industrial-inspired elements.
Who designed the Great Jones Loft?
The Great Jones Loft was designed by Union Studio in partnership with Matt Bear.
What is unique about the Great Jones Loft?
The Great Jones Loft boasts several unique features, including a majestic 22-foot arched window, a custom designed floating staircase, and a large skylight that floods the space with natural light.
What is the size of the Great Jones Loft?
The Great Jones Loft is a spacious 2,500 square feet.
Can you rent the Great Jones Loft for events or photo shoots?
It is possible to rent the Great Jones Loft for events or photo shoots. However, you must contact Union Studio or Matt Bear for more information.
Is the Great Jones Loft available for sale?
The Great Jones Loft is not currently listed for sale. However, you can contact the designer or Union Studio for more information.
What neighborhood is the Great Jones Loft located in?
The Great Jones Loft is located in NoHo, a trendy neighborhood in New York City known for its architecture and arts scene.
Are there any other architectural projects by Union Studio or Matt Bear that are worth mentioning?
Yes, Union Studio and Matt Bear are renowned architects with several other noteworthy projects, including a beautiful pool house in East Hampton and a sleek private residence in Long Island.