What started more than twenty years ago as an innovative drainage solution for showers without thresholds has grown into a full line of architectural linear drains, including a collection for outdoor use. The Site Sizeable Linear Drain Series designed by Australian-based Stormtech offers elegant and efficient drainage for pool surrounds, patios, balconies, and driveways. Infinity Drain, Stormtech's American sister company, offers Stormtech-designed drains for the North American market.
Manufactured in Long Island, Infinity Drain offers the Stormtech designs that are suitable for North America (common installation methods differ from those in Australia). Made of stainless steel, the Site Sizeable Linear Drain Series models include the AG Series (Stormtech's ARG Series) with a linear wedge-wire stainless grate and the DG Series (Stormtech's PH Series) with a circular hole-perforated stainless grate, both available in complete kits or as components. Contact an Infinity Drain Dealer for pricing and ordering information (Australian residents contact a Stormtech Dealer).
For indoor drainage, see our earlier post: A Disappearing Act: Infinity Shower Drains.
Above: The Site Sizeable Linear Drain Series is both visually discreet and effective. By joining channels and grates together, drains can become as long as necessary.
Above: A linear drain installed at the base of stairs keeps water from pooling.
Above: The popular AG-65 Site Sizeable Linear Drain (Stormtech Model 65ARG40) used to frame a pool.
Above: Because the channel of the Site Sizeable Linear Drain Series is designed to work with a neutral pitch (meaning it can be completely level–no pitch required), it is perfect for using at the threshold of exterior doors to keep water from coming inside.
Above: Keep your garage dry with the high-efficiency drainage (9 to 16 gallons per minute per outlet depending on model) of the Site Sizeable Linear Drain Series.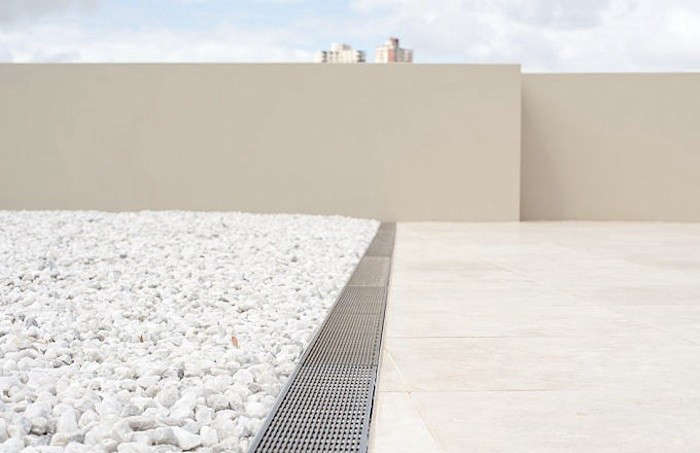 Above: The linear drains can be installed within a variety of hardscape materials from concrete to pavers to gravel. The grates can be removed for easy cleaning.
Above: Stormtech and Infinity Drains offer custom-designed drains for site-specific needs. Contact an Infinity Drain Dealer for more information.
Need an interior drain? Stormtech/Infinity Drain recently partnered with an Australian design rockstar to create the World's Most Beautiful Shower Drain.