Founded in 2014, Chan + Eayrs is a hybrid design/development firm on a mission. Principals Zoe Chan and Merlin Eayrs are offering an alternative to London's corporate developments: "There's so much homogeneity in the urban fabric," co-founder Chan told The Spaces. "We want to create a bit more wonder."
The duo's second development project, New Cross Lofts, is a four-unit structure in southeast London, located on a site formerly occupied by a burned-out garage; the architecture, interiors, and real estate development were done in-house.
Photography by Rosella Degori for The Spaces and Michael Sinclair for Chan + Eayrs.
Above: Each loft and studio opens off a communal corridor with polished plaster walls and concrete floors. The New Cross Lofts are currently for sale; for more information, visit the Modern House.
Above: The lofts open onto open kitchens by British Standard, sister company to Plain English.
Their development is independent, indeed, and totally their work: "We approach a project as artists would: Our blank canvas is our site, and we do everything creatively, from construction all the way through to dressing the space."
Above: Each loft has four handmade steel windows with fluted glass on the bottom half for privacy.
Above: Down the hallway from the open living space is a master bedroom, two double bedrooms, and bathroom.
Above: Beneath the handmade windows, the lofts have built-in storage benches with cushions and cast-concrete tops.
Above: The designers selected every detail, down to the furniture. "An advantage to working for ourselves is that we can choreograph this aesthetic," Eayrs says. "A developer would never give you the opportunity to go and find a secondhand piece of wood that's been polished over time. Everything has to be new, follow a set template. I like rawness and patina."


Above: The walls are painted in Farrow & Ball's pale pink Setting Plaster. The off-white used on cabinets, paneling, and ceilings is Rolling Fog from UK paint company Little Greene. The lime-washed oak floors feature underfloor heating throughout.
Above: Bedrooms feature custom oversize steel windows and Anglepoise lamps.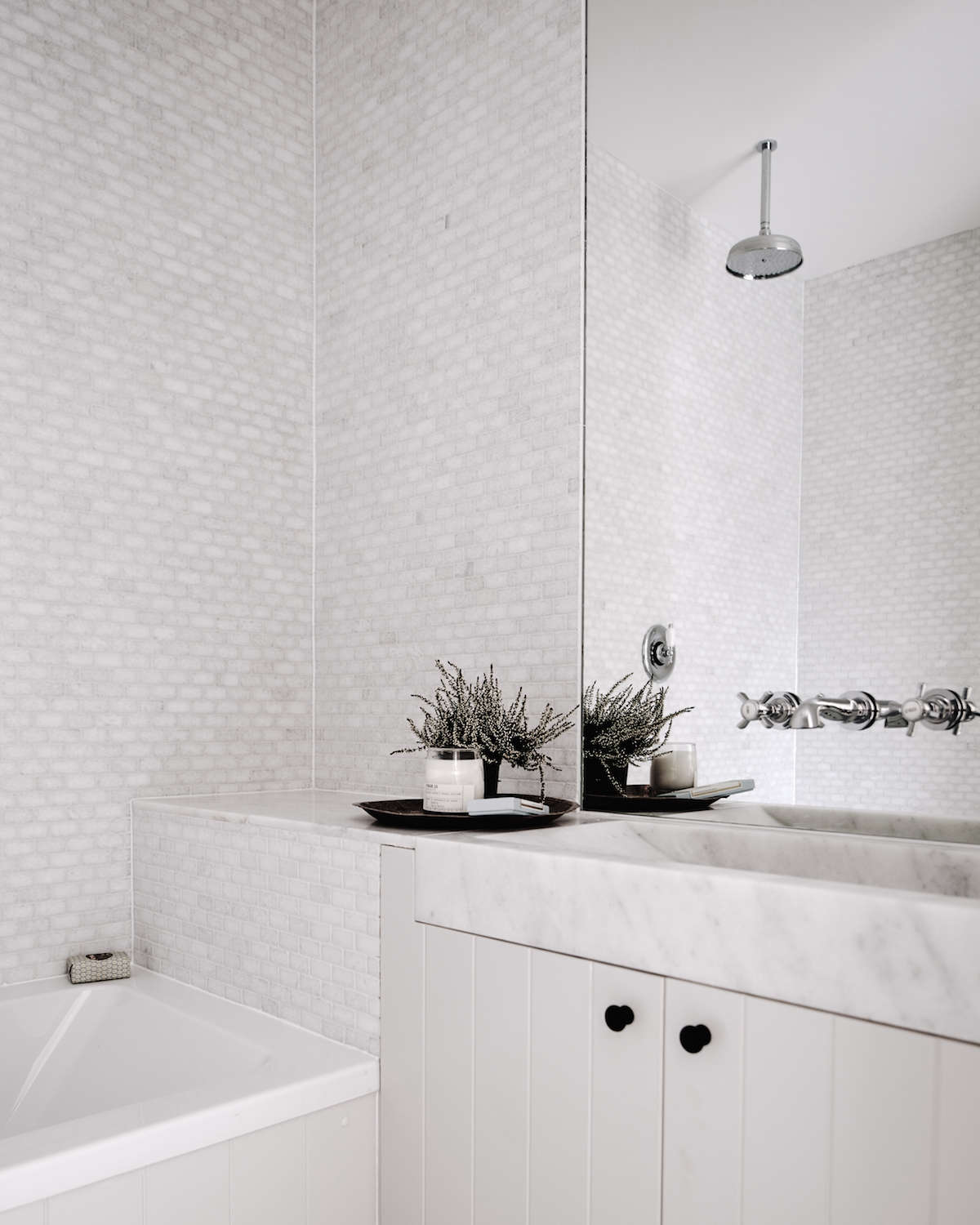 Above: Master bedrooms have bathrooms en suite. Baths are tiled in honed marble with custom marble sinks.
Above: The communal corridor is lined with nautical sconces, year-round plantings, and a glass atrium overhead.
Above: The work studios on the bottom level share a small courtyard with a planting bed and space for outdoor seating. Each studio has an entry hall, kitchen, conference room, bathroom, and large main room for several desks.
Above: The exterior is herringbone-patterned brick, mimicking Zoe Chan's Herringbone House in London.
You need to login or register to view and manage your bookmarks.