Belgian architect Bruno Erpicum has been practicing for 25 years, creating a portfolio of finely detailed modernist buildings and interiors. We especially like this small stone outbuilding in the Belgian countryside, which Erpicum transformed by introducing steel sheets into the existing structure to create a mezzanine floor. He extended the steel sheets to the outdoors, fabricating a glass-enclosed living room pavilion that offers sweeping views of the surrounding countryside. Go to Atelier d'Architecture Bruno & Partners to see more of the firm's work.
Photographs by Jean-Luc Laloux courtesy of Bruno Erpicum.
Above: Erpicum preserved the rustic character of the original stone cottage.
Above: The steel-and-glass room seems to hover in the snow, affording almost-panoramic views.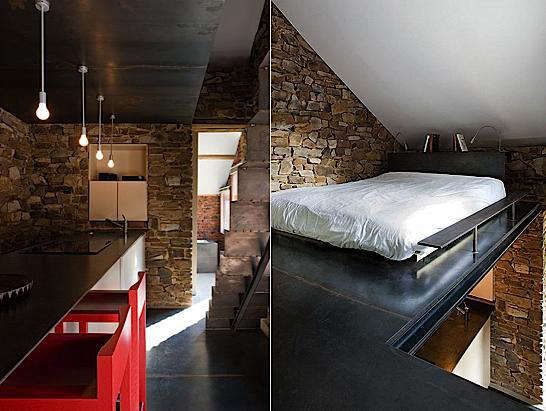 Above: A&D 8: Bruno Erpicum, by Wim Pauwels; $91.25 at Amazon.
(Visited 291 times, 1 visits today)