The young design firm Workstead, whose work encapsulates the thriving creative scene in Brooklyn, has just completed an apartment renovation where everything from design to manufacture was made in Brooklyn.
Their small Brooklyn Heights remodel involved the reorganization of the kitchen, living, dining, and bath areas of a single floor co-op apartment. The clients' decision to replace the existing floors with antique hard pine floorboards started an obsession with wood, that ultimately became the key driver for Stefanie Brechbuehler and Robert Highsmith, the founding principals of Workstead (a member of the Remodelista Architect/Designer Directory) to finding design solutions for a space where maximizing storage and flexibility were paramount.
N.B.: Brechbuehler and Highsmith originally founded Workstead in their own apartment, which they used as their design lab. To see where it all began, see Workstead in Cobble Hill.
Photography by Matthew Williams.
Above: The boxes on the wall are made of hardwood cherry and provide storage opportunities. The rectilinear form of the pendant lampshade by Workstead matches the storage boxes on the wall behind.
Above: "A significant amount of below-counter storage serves as both a buffet and work surface for the dining area and kitchen," Highsmith says. The cabinets are made from a hardwood cherry veneer; all millwork was produced by Markus Bartenschlager of Greenpoint.
Above: "We conceived the boxes as sculpture so that the view from the living area was not that of staring into a kitchen," Highsmith says.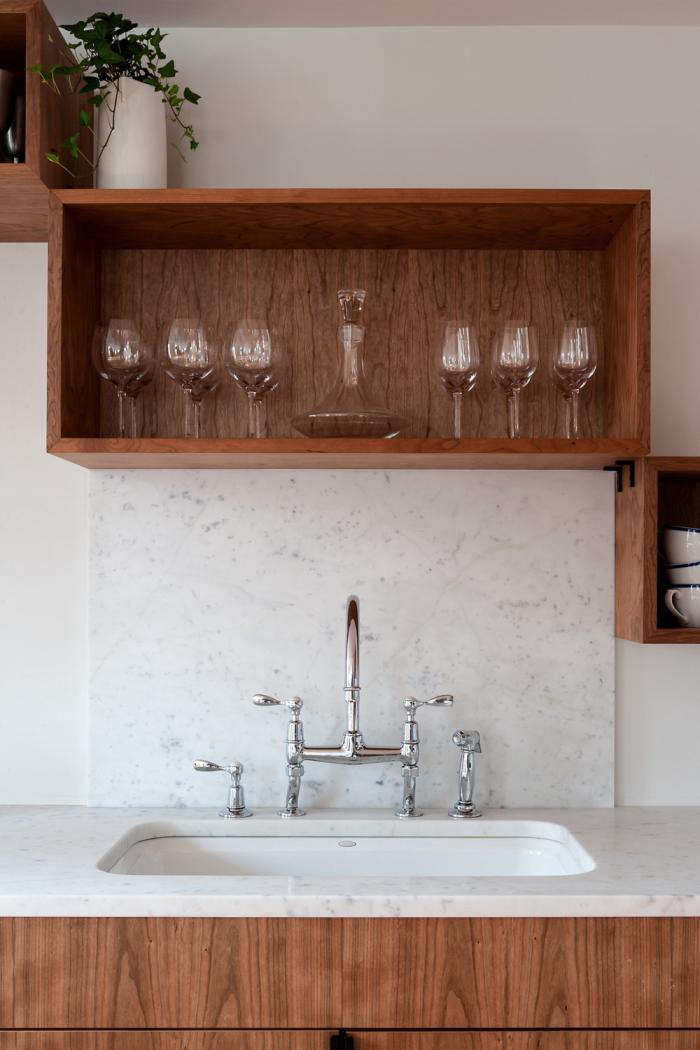 Above: For budgetary reasons, the clients chose white cararra marble instead of kolkata marble for the kitchen backsplash and counter. With the help of a Brooklyn marble craftsman, Luciano Granato of Red Hook, the designers managed to source a cararra marble with a similar warm brown veining normally seen in a kolkata marble.
Above: "Custom steel hardware, at multiple scales throughout the project, stitch the cabinets and shelves together," Highsmith says.
Above: Also manufactured in Brooklyn by Williamsburg steelworkers 4th State Metals, the steel stitches in the living room are larger in scale than in the kitchen as they were designed to act as bookends.
Above: Two Workstead designed Wall-Mounted Lamps grace the wall of the living area.
Above: The steel "stitches" hold up white shelves in the bathroom.
Above: The general contractor for the project was Brooklyn-based J Rod Construction.
N.B. See 114 images of Brooklyn projects in our Gallery of rooms and spaces.
(Visited 21 times, 1 visits today)