A Détacher, a small shop on Mott Street in Nolita, is two parts fashion, one part housewares, and it's so current you'd think it opened yesterday. But it was back in 1998 that owner Mona Kowalska, who is originally from Poland, gutted the storefront space and launched her first collection.
Mona's approach to fashion is entirely her own, and often comes from unexpected sources of inspiration (the way a shirt tucks into a skirt when the weather is warm can inspire the cut of next season's dress). Her unique slant toward all things style-related extends to the housewares she designs and stocks in-store: "I'll buy something for myself to use at home, or like this for my hair [she points to a French Wire Hair Pin], and then we'll realize we want it for the store and I have to track it down," she says.
The spare industrial space functions as a backdrop for a seasonally rotating collection of clothing and accessories: "Some collections need more air, so we work on making it look more empty and creating more space around things; I'll shift the density in the store," says Mona. "Even those tiny shifts make all the difference."
Photograph by Michael A. Muller for Remodelista.
Above: A Détacher is located at 262 Mott Street in New York City.
Above: A vintage wooden bench marks the exterior of the shop.
Above: The tiny sign in the corner of the front window.
Above: Mona adjusts a piece of jewelry on display.
Above: The large front windows are covered with simple matchstick blinds. "For me, they are the perfect window shade. I like that the function is clear: You know what it is, what it's doing there."
Above: "We did a complete gut of the space: We had the old floor taken out, put in a new floor. There was a dropped ceiling, which we removed to make the space feel loftier."
Above: Mona installed a series of vintage ceiling lights in a random arrangement.
Above: The back wall of the shop was veneered in teak and clad in mirrored tiles for a silvery effect.
Above: The handwoven Giant Basket is 41 inches tall and costs $375. (Note: It's currently sold out, but inquire with A Détacher directly for restocking information.) "I like these things that straddle utility and sculpture," says Mona of the baskets.
Above: A low display table with an array of home objects: "Vintage, Japanese bowls, traditional Indian towels," says Mona. "I like when I find those perfect anonymous things because there tends to be a modesty and restraint about them that designers often don't have."
Above: Rope Incense bundles sourced from Nepal are available in cedar or sandalwood; 20 pieces for $12.
Above: The Tornillo Wooden Dish Rack is something that Mona originally designed for herself to use at home. After guests continued to ask about it, she decided to produce them for the store; $125.
Above: Dried foliage in a vintage vase.
Above: An iron and leather basket holds cotton Portuguese Bath Mats (40 by 19.5 inches); $75 each.
Above: Stacks of oversize Woven Reed Boxes (each measures 23 by 15 by 7.5 inches); $250. For the past 10 years, Mona has traveled to Peru twice a year to design baskets with well-known artists and knitwear with a local factory.
Above: Two pairs of wood-soled Eleanor Pumps are displayed back-to-back in the window.
Above: A two-seater chair in the middle of the store is layered with a brown sheepskin, vintage beaded 1970s car seat covers, and a Hot Pink Hairy Pillow ($253).
Above: Custom-made iron clothing racks display seasonal A Détacher collections.
Above: A Détacher always includes a knee sock or two in every seasonal collection. The Cotton Over-the-Knee Socks in black are $50 for a pair.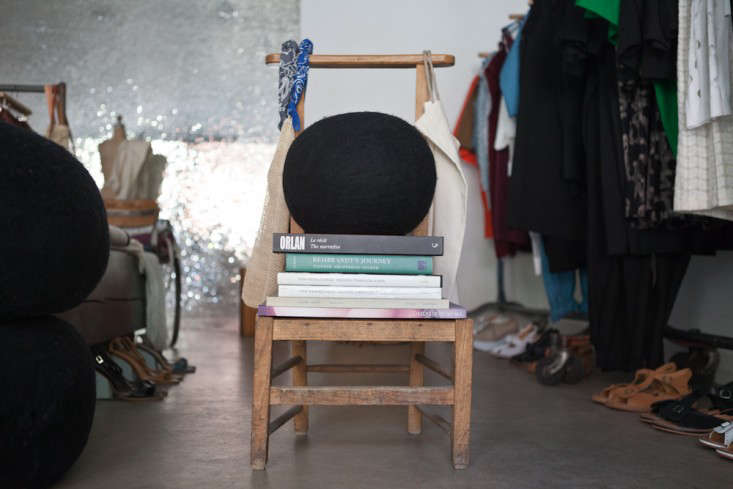 Above: On a small rustic wood chair sits a stack of design books, topped off with one of A Détacher's Black Felt Balls. The ball is made of solid felt and measures about 11 inches in diameter; $505.
Above: Electric pink masking tape is a signature on all A Détacher packaging.
Above: Mona standing in front of the World Map by Future Mapping Company; the map is a cylindrical equal area projection that represents countries according to their true size; $175.
For a quick look at a room in Mona's own home, see our post Design Sleuth: The Must-Have Vase of the Design Cognoscenti. For a list of other places to visit nearby, see our New York City Metro guide.
(Visited 167 times, 1 visits today)