Shelley Martin lived in Portland when she was very young, but after spending three years in San Francisco then three years in New York working in architecture/landscape firms, she and her partner (also an architect) decided to make Portland their home. That was in 2007. Last year, Martin took time off to fulfill a long-harbored dream and began her own ceramics studio. We don't see a return to her day job.
She set up a studio in her backyard garage, which she and her partner, Mitch, renovated to make space for her ceramics studio as well as a wood shop for him (and bike parking for both). The small room, which overlooks the garden, houses her potter's wheel and is where she makes all her ceramics using colored stoneware and porcelain clay sourced from the Pacific Northwest. "Each piece is unique, considered, and made only using my hands, a few simple tools and the pottery wheel," Martin says. Her work is available through VItrified Studio and Etsy (everything is made to order and takes four to six weeks to make).
Above: The converted garage in the backyard housing Martin's studio. Portland's appeal? Aside from being affordable, "this is a city full of makers and craftspeople," she says. "I love the hardworking creative people that live here, and the fact that the community knows in order to have art and craft, you need to support it and embrace it."
Above: The Nesting Cylinder Tray Set is $170.
Above: The Extra Large Canister is $130.
Above: The Nesting Plate Set is $125.
Above: Bottles with cork stopper lids range from $30, depending upon size.
Above: Nesting Tray Set; $180.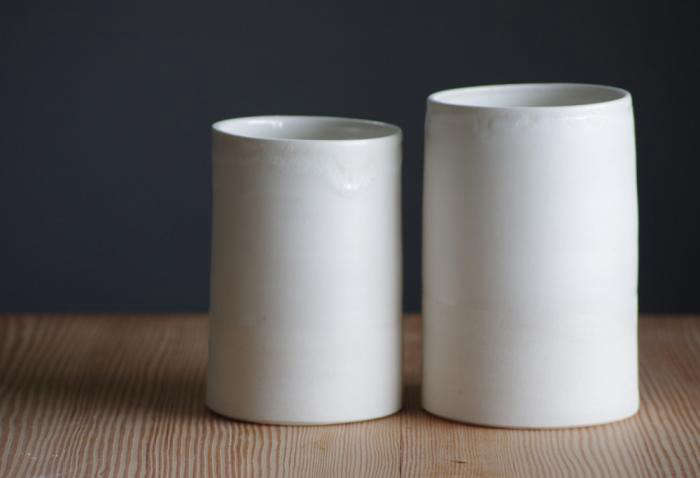 Above: Cylinders; $55 each.
Above: Martin at work at her potter's wheel.
(Visited 24 times, 1 visits today)