In Wells, Maine, on a strip of Route 1 given over to lobster roll joints and the usual antiques shops, Corey Daniels Gallery is a thrilling glimpse of World of Interiors, Yankee-style.
In a 19th century Colonial house and connected barn, both painted a deep charcoal, Corey curates contemporary art shows often featuring Maine artists. But he is also a longstanding antiques dealer and an American Duchamp with a talent for arranging found art and curious objects. He's a painter himself, too, and, in recent years, has started putting all of his passions on display, sometimes in inscrutable ways—browse in his gallery and, refreshingly, it's often hard to tell what exactly is for sale, individual objects or whole displays? Someone I know convinced him to ship her a vintage garden cloche, and it came filled, as it was in the gallery, with two dozen red napkin rings, which both surprised and delighted her.
To see more, go to Corey Daniels Gallery.
Above: An oak Stickley desk holds string-wrapped bottles and a painting by Corey Daniels. The steel disc is a find from an old machine shop.
Above: One of Corey Daniels's signature installations: a steel bench by Doug Meyers, two of Corey's own paintings, a combination concrete and lucite chair by Roger Prince, folk art wooden dice, and a rusty English ladder. Corey has written that he is "drawn to objects with intrinsically compelling qualities."
Above: Silvered beads in an early American blown-glass bowl.
Above: A glimpse of Corey's own longtime house, an 18th-century customs warehouse on an island near the gallery. It appeared in World of Interiors in 1993 and a few years ago in a New York Times slideshow. He's currently rethinking every room.
Above: A tabletop at the gallery contains, among other things, carved plaster faces by Neal Beckerman, an architectural bronze bookend, Art Deco glass vase, wax sculpture of a dog by an unknown artist, and a small encaustic painting entitled "Maude by Tim Wilson. Hanging in the background is a wall sculpture by Paul Oberst.
Above: On a steel shelf—part of a freezer rack from a kosher meat house—a group of concrete spheres embedded with glass beads by Sean O'Brien and a painting by Kelly Jo, plus contemporary ceramics, and old wooden shoe forms.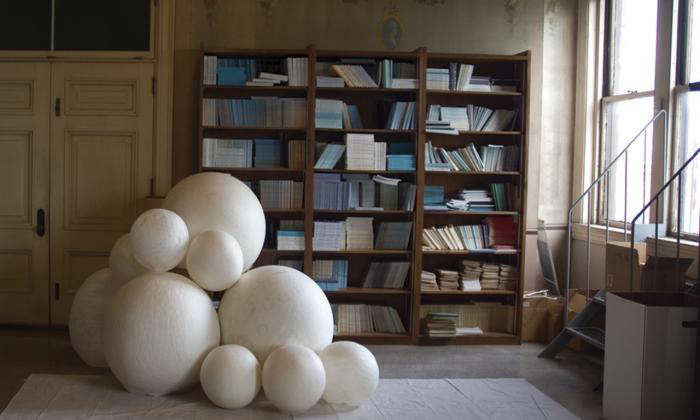 Above: For a show at Corey Daniels, artist Sarah Bouchard created a series of paper-mâché Orbs that she lit from within and hung in a giant cluster. Here, they're shown in process in her Portland, Maine, studio in a former Masonic temple.
Above: A Paul McCobb chest and leather lamp both from the fifties stand in front of a large abstract canvas by Corey Daniels. One of Corey's specialties is displaying outsized old industrial parts, such as the chains and bricks placed about the concrete floor.
Above: Sculptural shapes in shades of ivory and brown with lovely patinas and textures are arranged in a glass case in Corey's painting studio adjacent to the gallery.
Intrigued? See the Corey Daniels Gallery for more.
You need to login or register to view and manage your bookmarks.