Sometimes you have to take two steps backwards to take one step forward, which is essentially what the owners of the Hunsett Mill house did.
The problem? The original residence for the keeper of Hunsett Mill in the historic Norfolk Broads National Park became a private residence in 1900, and over the course of the 20th century, the house had suffered five piecemeal extensions. Each new extension was meant to alleviate a lack of space, but the current family was still in need of large open living spaces.
ACME's ingenious solution? Instead of adding another incremental extension, the London based design firm reinstated the small-scale 19th century Mill Keeper's house to its original proportions, with only a single new extension added to one side; creating a more rational footprint allowing for more efficient living on every level. The house is available to rent; see Hunsett Mill.
All photos by ACME, unless otherwise noted.
Above: Hunsett Mill was a water pumping mill until 1900, when the advent of electricity rendered wind-powered pumps obsolete.
Above: Acme's new extension retreats behind the listed mill and is conceived as a shadow of the existing house, retaining similar proportions and massing.
Above: Every room is flooded with natural daylight and offers framed views of the windmill and surrounding Norfolk Broads landscape. Photo by Cristobal Palma.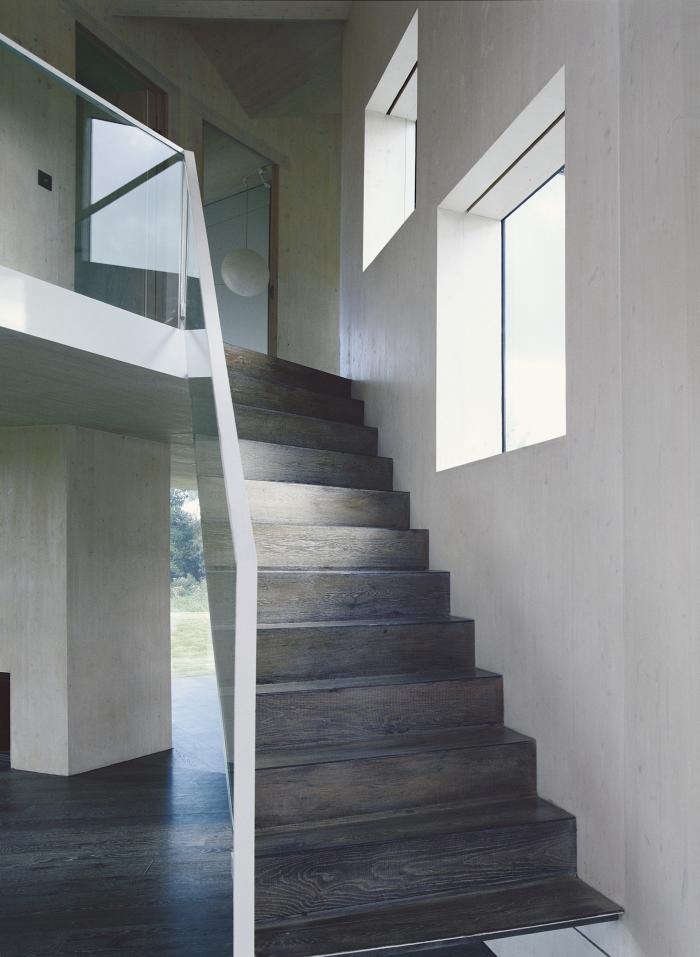 Above: The main staircase, manufactured from 4 mm steel plates, is designed to be as light and unobtrusive as possible. Dark oak strips were directly bonded to the steel plates so that the staircase could be continuous with the floor. Photo by Cristobal Palma.
Above: ACME's new extension includes two large open living spaces on the ground floor.
Above: Continuous dark oak flooring extends from the new extension into the existing mill house. Photo by Cristobal Parma.
Above: All walls and ceilings are constructed from wood, exposing the structure throughout. Photo by Cristobal Parma.
Above: Door thicknesses match the thickness of the wood walls to emphasize the continuity of the material. Photo by Cristobal Parma.
Above: The moderately scaled bedrooms use the space under the roof pitches and large windows to create a feeling of capaciousness. Photo by Cristobal Parma.
Above: A view of the original house from above with its five sets of extensions accrued over the 20th century.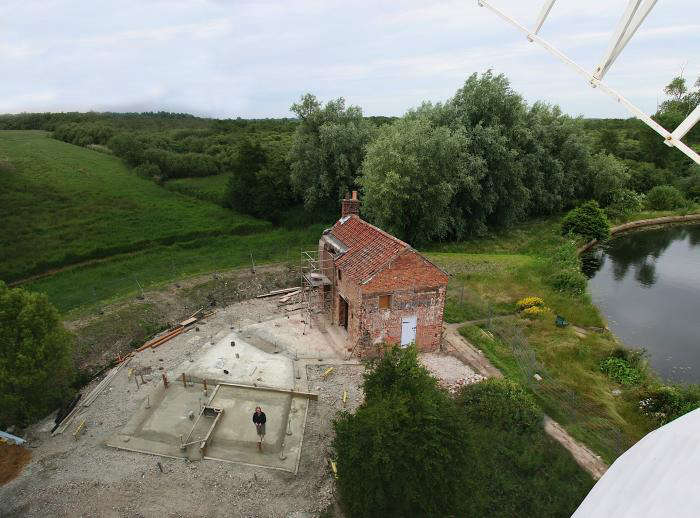 Above: The original mill house is reinstated and the foundations of the new extension mark out the the floor plate.
Above: Charred timber (known as Yakisugi in Japan) is used to clad the new extension, contrasting with the brick of the existing house and the windmill while referencing the tradition of tarred utilitarian buildings that can still be found in Norfolk today.
Above: The once working windmill is now a picturesque reminder of the history of Hunsett Mill. Photo by Cristobal Parma. (N.B.: To see the modern garden ACME designed for the old windmill, go to A New Garden for an Old Windmill.)
(Visited 92 times, 1 visits today)